October 22, 2015 - 4:47pm
Byron-Bergen superintendent named to Hilton post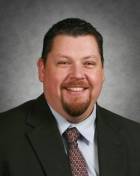 Press release from the Hilton Central School District:
The Hilton Board of Education has selected Casey Kosiorek as the next superintendent of the Hilton Central School District pending formal appointment to the position at the next Board of Education meeting on Oct. 27. He will step into this role when David Dimbleby retires at the end of this calendar year.

"The Hilton School District Board of Education would like to sincerely thank the staff and community members who participated in the search process," said Board President Daniel Wellington. "We have reviewed all the information given to us from the finalist interviews as well as their Day in the District. Together with our own observations and your invaluable input, we have taken great care to select our next leader and are confident that Casey will carry on the tradition of keeping our schools at the heart of the community."

Kosiorek is currently the superintendent of the Byron-Bergen Central School District and has served in that position since 2012. Kosiorek earned his Bachelor of Science degree in Physical Education and Master of Science degree in Education from Canisius College. He is currently pursuing his doctorate in Educational Leadership at the University of Rochester.

"It is an honor and a privilege to be selected as the next Superintendent of Schools for the Hilton Central School District," Kosiorek said. "I look forward to learning and understanding the great pride, traditions, and work that has taken place and I'm excited about working with all stakeholders in the Hilton learning community to continue on the trajectory that has been set on doing what is best for our students. My family and I look forward to becoming a part of the community in the near future. I am humbled by this opportunity."

The Board worked with Monroe 2-Orleans BOCES District Superintendent and Search Consultant Jo Anne L. Antonacci throughout the search process. Wellington stated, "The Board was very pleased with the process that Mrs. Antonacci led us through and the resulting selection of our new Superintendent."
October 22, 2015 - 10:31pm
#1
Congratulations and best wishes on your new job. Hilton, as every place else that you have worked will benefit by your professionalism, knowledge and expertise in the field of education, as well as all your co-workers, support teams and, most importantly, the students. May you continue up the ladder of success and enjoy life and your family as you go.