April 25, 2016 - 9:37am
Byron-Bergen welcomes 15 students to National Honor Society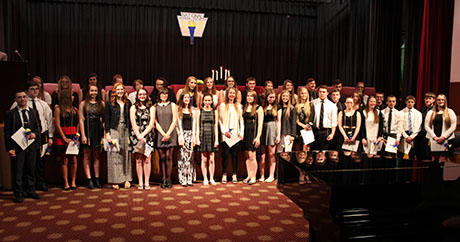 Press release:
The Byron-Bergen chapter of the National Honor Society (NHS) welcomed 15 new student members to their distinguished company on April 20.

The service included congratulations from Interim Superintendent Jon Hunter, Ph.D., along with the time-honored candle-lighting ceremony that acknowledges the high standards students in NHS must exhibit in knowledge, character, leadership, service and scholarship.

Inductees each received a yellow rose, which they shared with family members, and were presented with their traditional honor cords and certificates.

Jr./Sr. High School Principal Patrick McGee asked students to consider the question posed in Malcolm Gladwell's book, "Outliers": Why do some people succeed, living remarkably productive and impactful lives, while so many more never reach their potential? He challenged students to work hard and use every opportunity they can find to fulfill their promising futures.

Students also heard from two inspiring guest speakers, Amy (Seward) Stacy (Class of 1980), and Helen Hulburt, the mother of Judy (Hulburt) Holly (Class of 1976). Stacy and Holly were this year's Alumni Hall of Fame honorees.

The 2016 inductees to the Byron-Bergen National Honor Society are: Cameron Brumsted, Catherine Brumsted, Lauren Burke, Benjamin Chaback, Quinn Chapell, Brionna DeMichel, Margaret Graney, Justin Hannan, Hayley Hoehn, Brian Ireland, Daniel Jensen, Peyton Mackey, Makenzie Muoio, Leah Thompson and Dana VanValkenburg.

Current Members of the Byron-Bergen National Honor Society are: Olivia Audsley, Merrisa Bohn, Rose Bower, Bethany Ezard, Rider Farnsworth, Chase Felton, Clare Fraser, Brittany Goebel, Lauren Graney, Kaitlyn Harder, Ana Hubbard, Cora Ivison, Kelsey Maurer, Taylor McPherson, Celia Mercovich, Ashley Montgomery, Esther Musiyevich, Grace Pulcini, Brittany Rada, Brandon Reiner, Alexandria Rosse, Colby Savage, Adam Walter and Michael Zwerka.

National Honor Society membership not only recognizes students for their accomplishments, but also challenges them to develop further through active involvement in school activities and community service. The organization has chapters in all 50 states, Canada, and beyond.