Image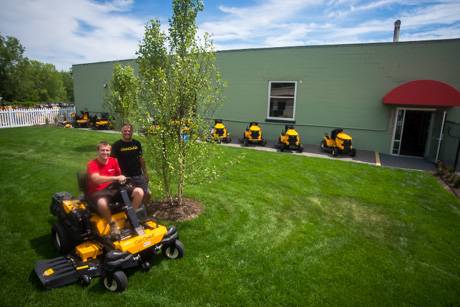 Guy Clark Jr., owner of Cedar Street Sales and Rentals, said that as far as he knows, he has the only test-drive lawn for lawnmowers in the area.
Over a period of months, Clark and his sons Connor (pictured with Guy) and Adam transformed what had just been a strip of weeds next to the store's building into a well-manicured lawn where customers can test drive the complete line of Cub Cadet riding mowers.
Clark went all local in designing and building the test drive area. Jon Ehrmentraut of Le Roy designed the yard. The grass came from Batavia Turf. Tri-County Glass and Armor Building Supply provided materials for a new door from the shop into the yard. Sterling Tent made the awning over the door, and the landscaping was purchased from local nurseries.
Clark figures the little park-like addition to his business will also be suitable for community after-work parties.