March 4, 2016 - 10:50am
Chamber Awards: Even after 23 years, Jay Gsell's passion for his government job remains strong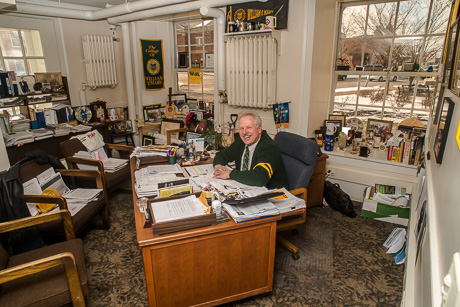 It might seem odd that a man who has spent his entire professional career in government would distrust government, but if you understand there are different levels of government, it makes perfect sense.
And it explains why a man like Jay Gsell would use the experiences that shaped him as a youngster growing up in the 1960s to drive his chosen career path.
From the outset, Gsell avoided jobs in state and national bureaucracies and instead focused on local government, where he thought he could have the greatest impact, do the most good for the most people.
"I still have a rampant skepticism of state government and the federal government in terms of, you know, the attitudes in many cases where I don't sense there has been a necessary evolution in many cases," Gsell said. "I like to think that what we do here at the local level, whether it's at the city government level, a village level, town or county level, is we've done a lot a more, been a lot more progressive, been a lot more creative, tried to do things that work for the greater good of the greater number, with, I guess, a  sort of altruism."
Gsell's approach to his work as county manager -- a single-minded focus, dedication, and that sense of civic purpose -- is why he is the recipient of the 2015 Wolcott "Jay" Humphrey III Community Leadership Award from the Genesee County Chamber of Commerce.
Not that local government is always perfect. Gsell, after all, grew up in New Jersey.
"Where I grew up in New Jersey, it was always government is just bad, you know," Gsell said "Even today you look at it and it still happens in New Jersey.  You look at the last three or four mayors in the city of Atlantic City. It's not only a city that is totally bankrupt, but three or four of them were indicted. It's kind of like the governors of Illinois. There's a Who's Who list on the post office in Atlantic City and it has more public officials on it than it does regular criminals."
There are bad actors everywhere, of course, but the value of local government is it is the government that is closest to the people and where the average citizen can have the most impact.
As a child of the 1960s, Gsell is well acquainted with the Vietnam War and Watergate. Those towering events influenced his views on bigger governments tremendously.
In college, Gsell's English class was given an essay assignment, asking the students to share their take on the Vietnam War. Gsell's response, "Why don't we get the hell out?" The U.S. had no business being there in the first place and people were spitting on returning soldiers.
"To me, that's really where I started to say, 'wow, I'm having sort of an epiphany here' in terms of, you know, the attitude," Gsell said. "Shortly thereafter we started seeing what was going on in the next administration in Watergate and other things and it just kind of kept reinforcing the fact that those next levels, those upper levels of government were, one, not the place I wanted to work, and two, the trust factors, things of that nature, were not real high."
Gsell couldn't escape Jersey right away. He needed a place to start, and he landed a job in Trenton. While at Trenton, he completed his master's in public administration, finishing the course work in 18 months. Gsell ran track in high school and in college, so he was able to get his master's at American University at no cost by becoming a track coach at the campus.
Gsell doesn't run anymore, because of a heart condition discovered and dealt with in 2010, but he can be found most mornings on the city's streets out for long walks. It's how he prepares his mind and body for a full day of work.
From Trenton, he traveled to Norton Shores, Mich., and Eau Claire, Wis. 
He worked in both cities for an administrator named Steve Atkins, who became a career-long friend and mentor.
After several years of working together, Atkins told him it was time for him to strike out on his own, lead his own administration. Gsell went to Marshalltown, Iowa, and Atkins ended up in a new job just down the road in Iowa City.
Atkins retired five years ago, but he and Gsell still talk regularly.
"We never stopped communicating in terms of what we've done throughout our careers," Gsell said.
In Marshalltown, Gsell found himself inheriting a financial crisis brought on by corruption. Marshalltown's treasurer and the president of the Iowa Trust were involved in what turned out to be a Ponzi scheme that wiped out $107 million worth of investments for 88 local governments.
"We woke up one day in December of 1991 and everything was gone, except the stuff he (the president of the trust) had, the boats and houses and some of the other, shall we say, accoutrements of a high lifestyle that he still possessed," Gsell said. "The local governments were on the verge of bankruptcy."
Marshalltown itself was out $7 million.
"About a year and a half later after we recovered 95 percent of the money," Gsell said. "The city attorney and I worked together and we got rid of the city treasurer. He had her escorted out by a police. She was 15-year employee who thought that she was untouchable but I said, 'Elaine, you had to know better.' "
Even though the fiasco started before Gsell took over as the administrator in Marshalltown, the turmoil didn't leave him unscathed. After it was resolved in 1993, "it became fairly obvious that it was time for me to seek other employment."
So he applied for the open county manager's spot in Genesee County, replacing Charlie Myers, who had been on the job for 11 years -- a long time for anybody to hold a top slot in local government.  
The county started with 90 candidates and when it was reduced to 10; the final 10 were brought to the town of a series of interviews with three or four panels of local community members.
Obviously, Gsell won the job. He's been at it for 23 years and though he knows retirement can't be too far away, he has no immediate plans to stop.
He's still energized by the challenge of making local government work, even in a climate of state and federal mandates, financial restrictions and ever tighter budgets.
Among the accomplishments Gsell thinks he can point to are assisting with the consolidation of emergency dispatch and helping the city get out of the ambulance business, and now he's charged up about potentially helping the YMCA expand its programs and possibly move into a new building.
Genesee County has provided the kind of stability he expected when he took the job.
"To me, this is pretty nonpartisan at the county government level," Gsell said. "I recognized that yes, Sheriff is Republican, Country Clerk is Republican, the DA is probably a Republican, and certainly the majority of legislators. But when it comes to my job, because my code of ethics says you have to be apolitical or basically you don't belong in this profession, that's worked out very well here and I think this country, in general, has conducted itself in that way.
"We have a service to provide. We have to do the best for the people that we serve and also we have to keep thinking about the idea that it's not because that you have a political persuasion or that you have a certain status in the community."
Gsell leads a healthy and sober life. He sees that sort of straight-and-narrow discipline as part of his chosen career as much as understanding the numbers behind pension plans and the complicated formula for figuring out the tax cap. He hasn't consumed an adult beverage since the day he watched O.J. Simpson in his white Bronco on an L.A. freeway in 1994. 
"You will never see me in a police blotter or blowing anything but a .000000," Gsell said. 
He's also never even touched, even in college, any recreational drugs.
"I lead a pretty pedestrian life in that regard," he said. "To me, it's part not putting myself in those situations where it's like 'oh wow, look at that. That person thinks that they could get away with stuff because of his possession and his title.' I don't run that way. Basically, you live like you wanted to be treated. That means you are pretty much clean as the driven snow. I am not perfect certainly, but I also don't put myself in situations that I think reflects on what I think should be the image of this organization and what I would like to think is my personal persona in the community."
Gsell has served on the Board of Directors for United Way in every community he's worked. He's also active in Rotary, as well as other community organizations over the years. Community involvement, he said, has always been a way for him to expand his horizons and meet new people.
"I guess I call it my passion to be involved in those kinds of initiatives and those kinds of efforts, that say, 'This isn't just my day job, but it is also how I try to improve the community,' " Gsell said.
March 4, 2016 - 5:01pm
#1
This is not the first time I have heard the YMCA might move. Howard, have you heard anything on this?
March 4, 2016 - 5:40pm
#2
Yes. I'll need to try and follow up with more info next week. There's a meeting coming up to discuss it (I think next week).
March 7, 2016 - 11:25am
#3
Congratulations Jay.
Genesee County is fortunate to have you.