June 13, 2018 - 5:19pm
Chief says armored military vehicle would improve police rescue capabilities at low cost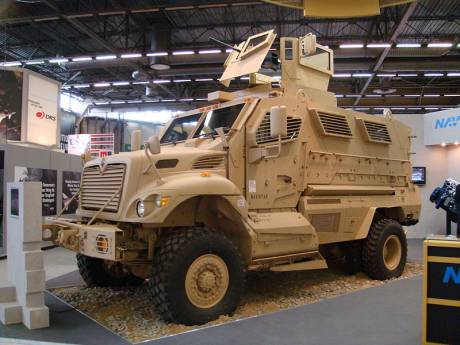 Adding a heavily armored vehicle to Batavia PD's fleet of vehicles isn't about taking on a more military appearance, said Chief Shawn Heubusch. It's about saving lives. Even just one life. And at a price the city can afford: free.
Heubusch is preparing a proposal for the City Council so the police department can request a decommissioned, heavily armored vehicle from the U.S. military known as an MRAP, which stands for Mine-Resistant, Ambush-Protected.
"Do we need a military vehicle?" Heubusch said. "No. We need a Lenco Bearcat. We can't afford a Lenco Bearcat so what we're asking for is permission to go and ask a decommissioned MRAP to keep our guys out of harm's way when they enter a hostile situation."
The armor can stop penetration by a .50-caliber round and withstand heavy explosives.
"It's not the military vehicle necessarily that we need," Heubusch said. "What we need is the ballistic protection."
Law enforcement agencies across the country are lining up for these vehicles as the military takes them out of service and gives them for free to law enforcement agencies and even fire departments.
A Lenco Bearcat costs $250,000. The MRAP is free. It can also do something the Lenco Bearcat can't do: drive into high water to assist in rescues.
"Are we getting shot at every day? Absolutely not," Heubusch said. "But the cost of these vehicles compared to the cost of someone's life is incomparable."
The vehicle would be used by the county's Emergency Response Team, which is headquartered at Batavia PD. Heubusch discussed the idea briefly with the City Council at Monday's meeting and in response to questions said maintenance of the vehicle would be comparable to a snow plow or dump truck and that while no special license is required for a police officer to drive it, there is a recommended instruction course for drivers of the  vehicle.
He'll bring forward a formal proposal for the city to submit an application for the vehicle at a future council meeting.
Heubusch acknowledged that some people might view obtaining such a vehicle as "militarization of civilian police" and he understands the optics of it but said that is a secondary concern.
"We certainly understand that aspect of it, but the brass tacks of it is, if it can save a life, it can save a life," Heubusch said. "I don't care what it looks like, nor should anyone else if there's an active shooter in your neighborhood and we need to get you out of your house so no one is injured in your home."
He added, "we're not going to be patrolling in this vehicle. It's not an offensive vehicle that is going to have gun turrets mounted on it or anything like that by any estimation. It's vehicle that would be used, again, as a rescue vehicle, whether it's to rescue a police officer or civilians from a hostile situation or a natural disaster."
June 15, 2018 - 12:40am
#8
Jacob. I believe the picture is a "stock" picture of an MRAP. While I have no "proof", I'm fairly confident that the DOD's decommissioned MRAP's aren't being delivered to police agencies with the machine guns in place.
From https://en.m.wikipedia.org/wiki/MRAP#U.S._law_enforcement_usage
[ Police departments and other agencies in the U.S. can acquire MRAP vehicles through the DLA's 1033 program, which redistributes no longer needed military equipment to state and municipal agencies. Some police departments have picked up surplus MRAPs with no transfer costs or fees. Domestic agencies plan to use them in disaster relief roles, as they can go through flooded areas unlike normal police armored vehicles, and provide security in response to terrorist threats. Some MRAPs used by police forces often have the machine gun turret removed and are repainted black.]
As for your, "...explain to me how a turret "can't do anything offensive.", the "turret" is nothing more than the rotating mechanism on top of the vehicle. I suppose, if someone was in it, long enough, while it was rotating, they might get dizzy (or sick), which could be considered offensive.