June 17, 2018 - 6:40pm
Collins visits Stein Farms to talk about what he's doing for the dairy industry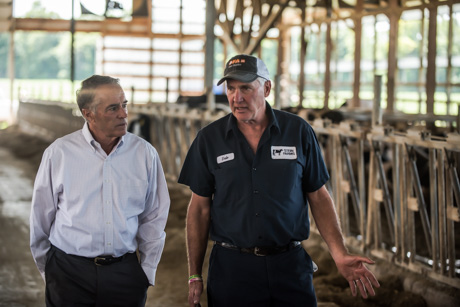 Rep. Chris Collins and dairy farmer Dale Stein.
Americans should be encouraged to buy more milk, Rep. Chris Collins told a group of dairy farmers gathered at Stein Farms in Le Roy yesterday to hear about the congressman's plan to encourage the USDA to promote milk consumption, along with his thoughts on immigration and trade policy.
"Whether it's health or otherwise, just think 'drink milk' because right now our biggest issue in Western New York is a supply-and-demand issue," Collins said. "You know we had some of the yogurt plants shut down. We've all faced issues within the school lunch program and certainly, we'd love to be selling milk up into Canada. Their recent move on ultra-filtered milk and Class 6 milk just made it even worse."
Collins is among a dozen members of Congress who signed a letter to Agriculture Secretary George Ervin "Sonny" Perdue III asking the USDA to implement a marketing program similar to the "Got Milk" campaign of the 1990s and 2000s.
"Years ago, messages that resonated with all Americans included 'Got Milk?' and 'Drink Milk, Love Life,' and we saw some of our favorite celebrities with milk mustaches," Collins said in a press release the coincided with yesterday's event. "The fact is, this type of marketing works.
"In recent years, we've seen an overall decline in milk consumption, which has created tough economic times for our dairy farmers and we are hoping Secretary Perdue can provide some additional help."
Whether the "Got Milk" campaign was successful is disputed by marketing experts. The campaign, created in 1993 at the behest of California Milk Processor Board, an agency created by the State of California to assist dairy farmers, reportedly increased milk consumption in California during its first year but that data was based on consumer surveys. 
In 1995, Milk Processor Education Program, a dairy-industry-funded nonprofit, licensed the "Got Milk" campaign and rolled it out nationally.
While consumer surveys indicated similar results as reported in California, actual milk consumption data gathered by the USDA tells a different story. Per-capita consumption of fluid milk has declined across the nation from 210 pounds in 1993 to 159 pounds in 2014, when the campaign was discontinued.
Dale Stein said he supports any effort to get more Americans buying more milk or that expands the market for milk.
"I'm hoping that we can increase consumer usage of dairy, and it is increasing, but increase it more so that it brings the supply closer to being in balance," Stein said. "It doesn't have to be in balance with demand. If gets closer, the price comes up."
At the beginning of the year, milk was selling at $14 per hundred pounds. That's not a sustainable price, Stein said. At that price, Stein Farms can't stay in business and pass the multigeneration farm onto the next generation. Right now, the price is $17. That is sustainable.
"If we can get the $17 milk we can do well here," Stein said. "I don't need $20 milk. I'm not asking for high milk prices, I just need the consumer to use a little more dairy and if everybody did that, that would make the difference."
It's not like Americans aren't buying more milk products, as Stein said. When accounting for all milk products, including the categories with the most growth -- cheese and butter (it used to be yogurt, but that has receded a bit) -- then Americans are consuming more milk. Through 2016, per-capita dairy product consumption increased from 613 pounds in 2006 to 646 pounds.
One reason for the current oversupply of milk, Stein said, is that a few years ago, for a few short months, milk did hit $20, and even $25. Dairy farmers across the country thought they struck gold and invested in increased production. Now they're stuck with that production.
Stein said he can't reduce production. Low prices means he has to increase it -- makeup on volume what is being lost per unit -- so he can meet his high fixed costs. He pointed to a couple of giant tractors that he bought used. 
"You're looking at $650,000 standing there," Stein said.
"I have to have cash flow," Stein added.  "If the price isn't there, the only thing I can do to is sell more milk. That means readjust what I'm feeding the cows to make more milk. We do a lot of cost cutting, too, but there's only so far we can cut costs. So you, as an individual farmer -- if everybody agreed to make a cut -- we could do it, but you can't get an agreement across the country."
Collins also said he is looking to help dairy farmers through the new five-year Farm Bill, which is expected to come up for a vote in the coming week.
The Market Protection Program, part of the previous Farm Bill, hasn't worked for dairy farmers, Collins acknowledged. 
"Most dairies have not signed onto the basic insurance program," Collins said. "On the crop side, the insurance program, the margin programs have worked. When we get into a supply and demand where there is oversupply, it just does not work. The formulas don't work. I've been told, and I think some folks here who have looked at it would say, the dairy margin program in the new farm bill will provide an option, an insurance option, that in a day like today could provide economic support on the downside."
Another long-standing problem for dairy farmers is labor and Collins said he understands that in order to address dairy's labor shortage, there needs to be immigration reform.
Collins is a member of a Republican group in the House called the Freedom Caucus. The members refused to vote on the Farm Bill unless they could get a bill on the floor dealing with immigrant labor. He also acknowledged that while the bill would fix many of the problems faced by dairy farmers, it also isn't likely to pass.
"We are putting up a compromise immigration bill," Collins said. "The bad news is, there's no dairy in it."
However, he said the Freedom Caucus has been promised a vote in July that would address the year-round visa issue that has made it so hard for dairy farmers to hire and retain qualified dairy employees.
"We've talked about the undocumented workers having a three-year visa that would be continued and renewable on a two-year basis," Collins said.
This is all good news, said Dale Stein after the event was over. He's grateful to Collins going to bat for dairy farmers. Even if the immigration bill expected to go to the floor for a vote next week doesn't pass, just getting the bill to the floor is an accomplishment after years of a congressional stalemate on immigration.
"What he has done has forced votes on immigration," Stein said. "He's working with other Republicans and working bipartisan with Democrats. Now he's forced votes on immigration so that we can maybe get immigration settled and fix for farmers and everybody else.
"It's been left in limbo for too long. Congressman Collins, working with others, including the Democrats, is pushing to get this settled. I support him 100 percent on that."
The issue making farmers across the nation nervous is the talk of trade wars.
In his remarks to local farmers yesterday, Collins didn't back down on the tough talk and praised Trump for taking on allies and rivals alike on trade policy.
"Trump rightfully has called out Trudeau in Canada for their long-standing, non-free-market protection of their (dairy industry)," Collins said. "We can't get any dairy into Canada where we were selling ultra-filtered milk. They shut down about a year ago, Class Six. Now they're dumping powdered milk around the world. I mean it's just awful. My comment to the press was, 'we caught Canada and we caught Trudeau cheating.' It's not fair trade; it's not free trade."
He said nobody can win a trade war with the United States.
"I'm not sure what Canada will ultimately do, but I think Trudeau should realize he doesn't win a trade war with the United States," Collins said. "China doesn't win a trade war with the United States. Europe does not win a trade war with the United States. Trump is the first president to stand up and say we've been in a trade war 20 years and we're losing.
He said China's plan to retaliate against Trump's planned 25-percent tariff won't work.
"The problem is we don't export that much to China," Collins said. "They're talking about putting tariffs on goods that don't even get sold in China. Well, have a nice day. It's simply rhetoric on their part."
Many of the tariffs China is planning, however, will hit agriculture directly.
U.S. dairy farmers exported $577 million in dairy products to China last year, up 49 percent from the year before. Though Collins said "we can't get any dairy into Canada," but in 2017, Canada imported $636 million in dairy from the United States. And while Trump and his trade representatives continue to threaten to pull out of NAFTA (North American Free Trade Agreement), the largest international market for U.S. dairy is Mexico, which imported $1.3 billion in dairy from the United States, up 9 percent from the year before.
As a percentage of U.S. dairy production, the percentage of dairy going overseas has grown from 8 percent in 2010 to more than 14 percent today.
Soybeans, another important crop in Genesee County, is a product targeted for retaliation by China but rather than answer merely with tariffs, China is planning to buy from Brazil, which has the capacity to grow soybean production. Some U.S. trade experts fear the United States won't get that market back even if tariffs are lifted.
The USDA considers China a potentially huge market for U.S. farmers. Last year, China imported $26 billion in U.S. farm products. 
The ultra-filtered milk dispute with Canada is a fairly recent issue. The class of product, called Class Six, was created a couple of years ago, and it's not governed by NAFTA. The price of the product is set by global supply and demand and isn't regulated. This has depressed the price below what Canada considers acceptable for its highly regulated dairy market. It won't allow Class Six imports from the United States. Meanwhile, U.S. dairy farmers are looking to expand the market for its oversupply of milk.
After Collins finished his speech, Collins and the other visitors were invited to a table filled with WNY dairy products, including Perry's Ice Cream. After Shelly Stein finished filling bowls and cones for everyone, Collins talked with Dale and Shelly Stein and other farmers.
Shelly Stein brought up the trade issue. She said she's concerned about commodities being used in a trade war.
"That's us," she said.
At this point, The Batavian jumped in with some questions for Collins about trade.
We asked about his statement that the United States could win a trade war with China when it's a large market for dairy, soybeans, sorghum, beef, and other agriculture products.
We asked, "Is this really the right approach, to get into a trade war with trading partners that agriculture depends on?"
Collins said, "We've been in a trade war 20 years. This isn't new. We've been losing the trade war for 20 years. There's just never been a president to acknowledge it. It's been death by a thousand cuts. Look at the manufacturing that's not done here and here we have been in a war for 20 years. This isn't a new war. But Trump is addressing the war that we've been losing, battle after battle after battle. The rest of the world's been taking advantage of us, all but laughing at us behind our back, as they have taken advantage of us. Trump was elected to say, 'it's done.' They are going to attempt to flex their muscles. The retaliation tends to be on the ag side, unfortunately."
Later in his reply, he said, "Right now it's noisy and there are consequences and others are gonna flex their muscles in hopes of getting Trump to cave in and say, 'No, no, no, it's OK that you cheat.' He's saying, it's not OK that they cheat. But I will tell you, as I said, they depend on us at the end of the day, whether it's Europe, whether it's Mexico, whether it's China, or whether it's Canada, if they don't trade with the U.S., they suffer. We can make any products made in China. We have huge deficits there. We may pay a little more. You know, whether it's your dinnerware or your underwear, you may pay a little more if it's made here."
Trump often Tweets about the state of the economy, how well it is doing. Low unemployment, rising wages, and if you look over the past 20 years, the Gross Domestic Product has increased every year except for 2008 and 2009. In the past 20 years, U.S. goods and services exports have grown from $500 billion to $1.4 trillion.
So if the economy is doing well and growing, we asked Collins for evidence that we're losing a trade war.
"Well, we're losing the trade war because we're not making the products here," Collins said. "We have 6.3 million people that are unemployed that don't have the skills to be a software engineer or a welder or a machinist. The assembly line jobs have disappeared."
(NOTE: Some economists blame manufacturing job loss on automation. A Federal Reserve report says 800,000 jobs were lost to China but were replaced by jobs in other sectors, primarily service, construction, wholesale and retail.)
Collins said, "There's a whole lot of folks who have given up even looking for work." He added, "Our labor participation in the adult workforce is at an all time low."
(NOTE: The Trump Administration says workforce participation has grown during his term.)
For our next question, we pointed out the iPhone recording the conversation includes inputs from U.S. companies, including the glass face, which is made in New York. Some economists estimate a trade war will cost 400,000 Americans their jobs because they make things used in products manufactured overseas or rely on inputs, such as steel, that Trump plans to tax.
The Batavian asked, "We depend greatly on trade with China. China, rightly or wrongly, is part of the WTO (World Trade Organization). Isn't using the rules that have been created a better approach to deal with these trade issues than starting trade wars?"
"No, not when they pay $3 an hour (for labor) in China," Collins said. "If they're paying $3 an hour, we'll never get our manufacturing jobs back. And what you just said is some of the raw materials are made here. Why don't we make the whole phone here?"
Adam Smith and David Ricardo addressed that question 200 years ago. Countries benefit by trade because each can specialize and therefore create the best possible products at the lowest possible costs, raising everybody's standard of living. Ricardo called it "comparative advantage."
That's a little more detail than we provided Collins (we just mentioned Smith and Ricardo in broad terms), but Collins responded, "There's some 40 percent of the world's population, 2.8 billion people, living in China and living in India. We've got 320 million, and they're paying $2 and $3 an hour. If we're going to make something in the United States, we've got to deal with that unfair, untenable differential."
We pointed out, Chinese wages, as happens in all developing countries, have been rising, creating a bigger middle class, creating a bigger market for U.S. products, particularly farm products.
"Yeah, they go from $3 to $4, from $4 to $5," Collins said. "We still lose that piece of it. We've got to level the playing field or there is no future for our children and grandchildren and we need inflation."
At which point, Collins began to discuss why we need inflation to help retire the national debt.
"Inflation is something we desperately need in this country," Collins said. "The $20 trillion of debt against a $20 trillion economy that our children and grandchildren and the 10th generation that is with us here (referring to the Stein family) deserve better. What they deserve is paying off this $20 trillion of debt in cheaper dollars, which means inflation.
"We need 4 percent per-year inflation for the next 18 years. Compound it annually so that the $20 trillion of debt is the equivalent of $10 trillion. In 18 years, and as our economy grows and doubles in 18 years from $20 trillion to $40 trillion, our debt can actually go from $20 trillion to $30 trillion. So we have a green light of 75-percent debt to GDP. We have to have inflation at 4 percent a year or our kids don't have a future."
So we asked, "So you're arguing for a hidden tax on consumers instead of reducing spending?"
"We can't ever reduce spending to cut our debt," Collins said. "Anyone who thinks so is living in la-la land. We have to grow our way to success. We have to grow our economy and inflation is part of it.
"Anyone who thinks that with our deficits today that we can pay down our $20 trillion of debt is in la-la land," Collins added. "It can never happen. We have to grow to success, grow for our kids to have a future.
"Part of that growth is inflation, and what you saw under eight years of Obama with a fake economy of no inflation, the $20 trillion of debt is truly troubling. It's $20 trillion and it's growing and without inflation, our kids are going to be living in cardboard boxes under the bridge."