April 27, 2018 - 12:58pm
Construction season in Batavia starts with new sidewalk on Liberty Street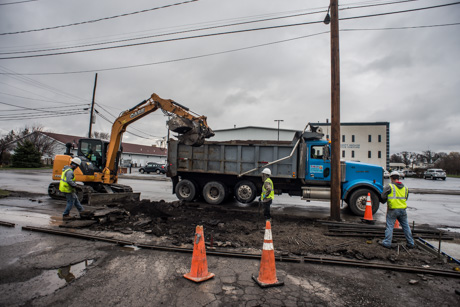 Work crews are getting busy with infrastructure projects in Batavia, starting with a new sidewalk on Liberty Street from East Main Street to Cherry Street.
New sidewalks will also be replaced on Washington Avenue from Ross Street to Bank Street, and on Tracy Avenue from Washington Avenue to North Street.
The sidewalk replacement is part of the state's "Healthy Schools Corridor" project and is funded by 75-percent state and federal grants and 25 percent by the city under the Transportation Alternatives Program.
The width of the sidewalks is increasing to five feet.
Roman Construction, from Tonawanda, won the sidewalk contract with a bid of $721,566.
Other city projects planned this year include milling/paving on South Liberty, Liberty, East Avenue, Vine Street, Swan Street, and Clinton Street, paid for by federal, state, and city funding. The council is expected to award a bid for this contract on at its next business meeting.
City crews will handling paving of Trumbull Parkway, Lehigh Avenue, Eleanor Place and Margaret Place.