July 13, 2018 - 2:48pm
DEC says toxic soil on city property next to Superfund site has been removed and replaced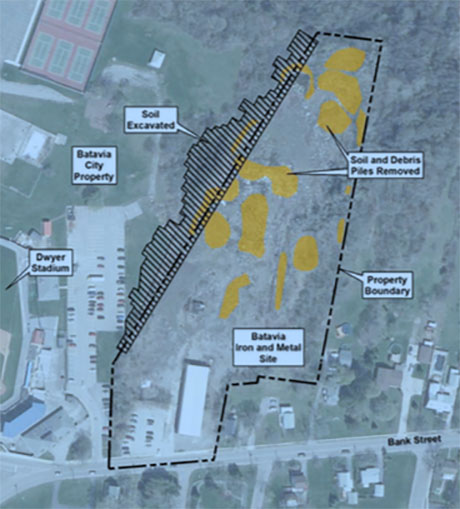 The Department of Environmental Conservation has completed clean up of environmental contamination on city property next door to the former Batavia Iron and Metal Co. property at 301 Bank St.
The former metal recycling plant is a state Superfund site and has been a target of environmental remediation for toxic waste since 2013.
The property in question is land along the northern end of the Dwyer Stadium parking lot.
Clean up of the entire site is almost complete.
From August 2017 to June 2018, crews removed soil along the property line and at the rear of the property.
"The primary goal of the cleanup effort was to ensure effective removal and property disposal of contaminated soil and debris on City property and to restore the property with clean soil," the DEC stated in a report on the project.
The contractor was Nature's Way Environmental, from Alden.
During remediation, 17,000 tons of soil and debris was removed. 
The city property received clean soil and grass seed.
The DEC estimates the remaining surface clean up of the Iron and Metal property will be completed by late 2018.
The site was operated as a metal recycling facility from 1951 to 1999. Two furnaces operated on the property from the early 1970s until 1994. The furnaces reclaimed wire and smelted white metals. Before the furnaces were installed, the company used open-burn dumpsters to remove insulation from wiring.
From these activities, contaminants leached onto city property and three neighboring residential properties.
Cleanup of the residential properties was completed in 2014.