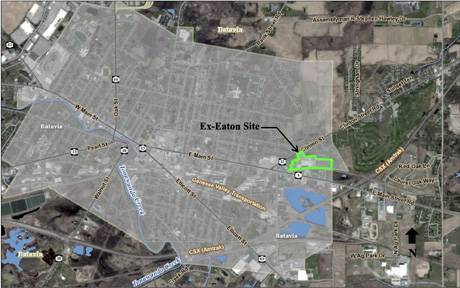 Public comments about a remediation project on the city's east side will be taken up to Sept. 21, state Department of Environmental Conservation (DEC) officials say.
The project, first outlined in an April 21, 2023 article on The Batavian, is part of the Clean Water Act for Basket Place LLC, located at 34-40 Clinton St., Batavia. 
Action on the privately owned Basket Place parcel was to begin in May to address contamination, with a site-specific health and safety plan and a Community Air Monitoring Plan to be implemented during remediation activities. 
These plans were to establish procedures to protect on-site workers and residents and include required air monitoring as well as dust and odor suppression measures.
The applicant's project description is "to remediate the soil and groundwater at the Ex-Eaton Site located in Batavia, NY. The remediation will be done by soil mixing using a zero-valent iron-based reducing agent to clean up current volatile organic compounds. Soil mixing will be done using large-diameter mixing augers and a small backhoe. No excavation is proposed. The project will impact 0.099 acres of Federal Wetlands which will be restored after remediation and proper erosion control measures will be implemented."
According to the state DEC, the State Environmental Quality Review determination found that the project is an "Unlisted Action and will not have a significant impact on the environment. A Negative Declaration is on file. A coordinated review was performed."
The state Historic Preservation Act (SHPA) Determination was that: 
"A cultural resources survey has been completed and cultural resources were identified. Based on information provided in the survey report, the New York State Office of Parks, Recreation and Historic Preservation (OPRHP) has determined that the proposed activity will have no adverse impact on registered or eligible archaeological sites or historic structures. No further review in accordance with SHPA is required."
From Coastal Management:
"This project is not located in a Coastal Management area and is not subject to the Waterfront Revitalization and Coastal Resources Act."
Opportunity for Public Comment:
Comments on this project must be submitted in writing to the Contact Person no later than Sept. 21, 2023.
Contact: Courtney M Scoles, NYSDEC Region 8 Headquarters, 6274 E Avon-Lima Rd, Avon, NY, 14414, or call (585) 226-2466 or email [email protected]