Image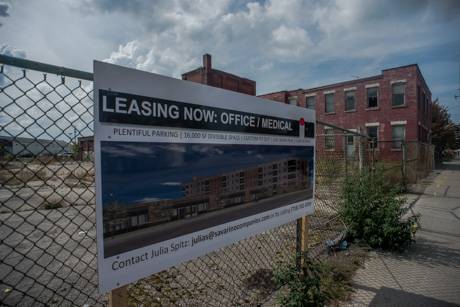 A delay in securing financing through the New Market Tax Credit program for developer Savarino Companies has held up the state of the Ellicott Station project, which is the $18 million redevelopment of the former Della Penna property on Ellicott Street in Batavia.
Julie Pacatte, economic development coordinator for the Batavia Development Corp., said today that Savarino expects to close financing on the project in November.
The original target date was August. (For an explanation of financing for the project, click here.)
This week, survey crews are on site so preliminary engineering work can begin. The surveys will help with floodplain-related design work.
Once financing is done, environmental remediation work can begin. 
"Hopefully, we'll get some favorable days and favorable weather during the winter," Pacatte said. "There's also some work to do inside on Resurgence Brewery. By spring, we should be in full construction mode."
There will also be a workforce recruitment project beginning in the fall, in cooperation with PUSH Buffalo and the Genesee County Work Center aimed at finding jobs for hard-to-place workers.
Savarino, Pacatte​ said, is also inviting local contractors to bid on subcontracts. Bid specs will be available on the Savarino website once the purchase of the property is completed.