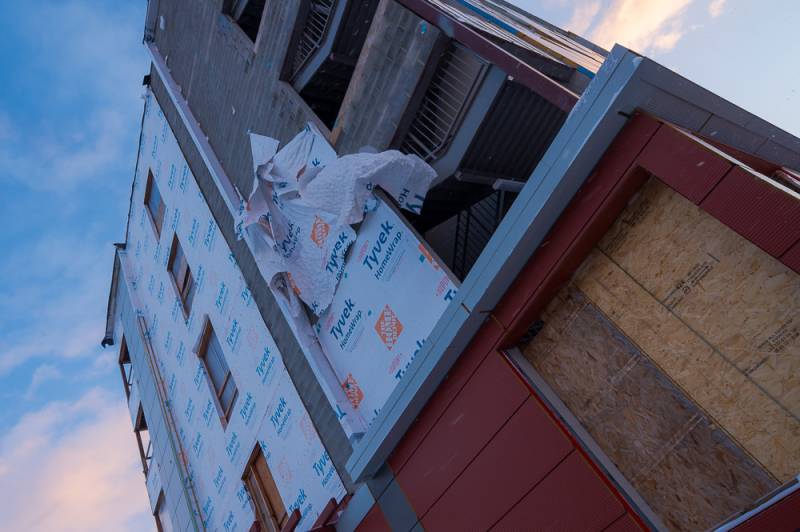 Genesee County Economic Development Center officials have severed their ties with Savarino Companies and asked for more than $1 million of tax benefits back, Senior Director of Marketing and Communications Jim Krencik says. 
"This action includes cancellation of the lease leaseback agreement, the tax agreement (payment in lieu of taxes) and the sales tax exemption agreement, and have returned the three parcels involved back to the taxable side of the tax rolls," Krencik said Tuesday. 
The EDC officials sent Ellicott Station LLC and Ellicott Station Commercial LLC related legal notices due to their "lack of curing of the default on our local tax agreement," Krencik said. 
He referred The Batavian to an explanation CEO Steve Hyde gave The Batavian in an Aug. 23 article. 
"To clarify, the majority of the GCEDC financial agreements for the project are termed over 30 years that start following the completion of the project. These are structured as performance-based. Additionally, the project was notified in July that it is in default of its GCEDC financial agreements and is currently in a cure period to meet the goals of a workforce housing project," Hyde said in the August article. "In light of the news yesterday, the project being in default to our financial agreements enables the GCEDC to have a greater role in ensuring a positive solution as we work with all parties involved. We continue to work with the City of Batavia towards this goal."
On Tuesday, Krencik said, "Additionally, we have issued a demand letter to Savarino Companies demanding repayment of the sales and mortgage tax benefits enjoyed by the project to this point, and we are attempting to claw back $1.1 million of those benefits."
One of Savarino's Ellicott Street properties was also fined for neglected property maintenance, along with a number of others, to the tune of an extra $30,000 for city cleanups of grass, weeds and debris, City Manager Rachael Tabelski said this week.
During Monday's City Council meeting, Tabelski asked council for a budget amendment to increase the expense line for "multiple grass, weed, and debris violations" this year. While 85 percent of the time, residents will take care of the issue once they're cited, she said, other times, "we do have to go in and either cut the grass ourselves or remove debris."
Tabelski gave The Batavian a list of citations for Savarino Companies earlier this year that included lack of property maintenance, including overgrown weeds, debris on the premises, and rank vegetation, for Ellicott Station and not securing the partially finished apartment complex on Ellicott Street. Savarino halted work on the project this summer after shutting down his company due to financial issues. 
Councilman Bob Bialkowski asked her if the city can recoup the expense of cleaning up these properties, which also included a larger site of the defunct Days Inn at 200 Oak St.
"We bill them at 30 days, we bill them at 60 days, and we bill them at 90 days. And we will bill them again until it's time to put it onto the tax bill. At that time, Heidi's office, the city clerk, will go ahead and levy that amount onto the tax bill," Tabelski said. "And a lot of times, it'll get paid in conjunction with the late tax bill. So we need to increase the expense line this year by about $30,000. And we are done, with snow on the ground, for grass, weeds and debris. So I don't feel like this will go any higher than where it is this year."