December 10, 2016 - 10:59am
Elba hosts 'Meet the Principals' night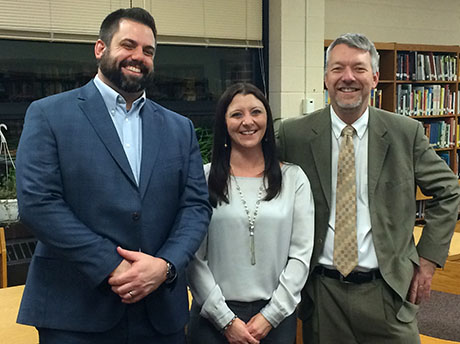 Article and photo submitted by Drew Muehlig.
President-elect Donald Trump isn't the only one putting a transition team together. Elba Central School has worked diligently over the last year and a half to get its administrative team together. Friday night, the school hosted a "Meet the Principal's Night," giving the community an opportunity to meet the new "team" face-to-face.
First there was new Superintendent Keith Palmer who came over from his post as high school principal at Pembroke Central School. Palmer was hired prior to the 2015-16 school year.
"As a fairly new superintendent, it is fortunate to be in a position to hire your administrative team," Palmer said.
That team is made up of Elementary Principal Carol Bush and Junior-Senior High School Principal Mike Langridge.
"Both bring unique strengths to the District that will have a direct and immediate impact on learning," Palmer continued. "Carol's knowledge and experience with literacy along with her ability to speak Spanish has already benefited our most needy students at the elementary level. As an Elba alumnus, Mike brings established relationships and credibility with the faculty and community. His focus on rigorous and challenging coursework for all students will continue to prepare our high-schoolers for both college and career."
Bush, former coordinator of the Center for School Improvement and Professional Development at Orleans/Niagara BOCES, boasts 14 years in the field of education with time as a Spanish teacher, literacy specialist and coordinator of student services and curriculum. Providing ECS students with the best possible learning experience is her top priority.
"Creating an environment that is conducive to learning and meets the needs of all students is critical," Bush explained. Each day, teachers and students enter our school building with an array of personalities, interests, expectations, skills and talents. As the instructional leader, it is my job to recognize these unique attributes and nurture them so they may grow to their full potential."
Langridge, former principal at the O'Connor Academy at Monroe #1 BOCES, plans to continue that same effort at the high school level.
"We will provide the opportunities and support for all students to be ready to take on their post-secondary life with the skills, abilities and character necessary to find success," Langridge said.
Those opportunities that Langridge speaks of are far more numerous than they were when he graduated from Elba Central School in 1998.
"Students have greater access to Advanced Placement courses, ACE (Genesee Community) courses, BOCES, small class sizes, a family atmosphere in which we take care of one another, and, thanks to mergers with local districts, extracurricular options my friends and I only dreamt of as students," Langridge added.
Many of those former students now make up the core community in Elba, fueling the growth and success of the school.
"There is a great sense of pride that exists in Elba, not only as a strong school community but also as a family," Bush said. "Everyone is truly invested in the academic, social and emotional well-being of our students and provide a remarkable support system for one another. I continue to be amazed by their dedication and commitment."
It seems that with their respective backgrounds and skills, Palmer, Bush and Langridge are poised to lead Elba Central School into the future.
"Carol and Mike are strong leaders and I look forward to the progress we will make in providing our students with the best education in Western New York," Palmer said.
Photo: Mike Langridge,Carol Bush and Keith Palmer (photo credit, Michael Augello).