January 20, 2018 - 1:41pm
Elba introduces Hall of Fame inductees at halftime of Lancers' game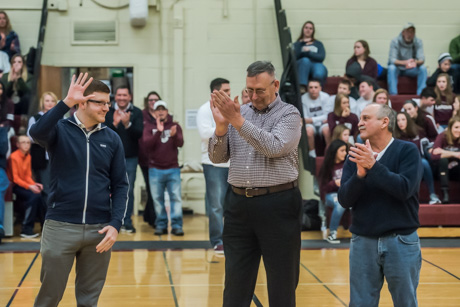 Nicholas Conley, Earl Roth, and Charlie O'Geen, Elba's 2018 Hall of Fame inductees, were introduced during halftime at the Elba vs. Byron-Bergen basketball game Friday night.
The trio will be inducted tonight during a dinner at Batavia Downs.
Following the introduction, some of Elba's basketball alumni played a four-minute basketball game.
In the boys game, the Lancers beat the Bees 50-42.
For Elba, Colton Dillon scored 22 points, hitting four three-pointers, and Jonathan Boyce scored 14.
For Byron-Bergen, Cameron Shank scored 13. Joshua Hohn and Lucas Stucchio scored seven apiece.