December 1, 2017 - 1:14pm
Flames and smoke showing in residence on Genesee Street, Corfu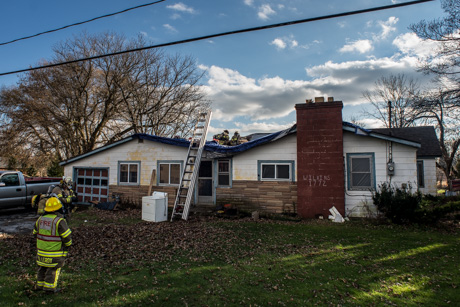 Smoke and flames are showing in a crawl space to the attic of 1772 Genesee St., Corfu.
Corfu fire along with Darien, East Pembroke, Pembroke and the City's Fast Team dispatched.
UPDATE(S) (By Billie) 1:17 p.m.: Second platoon called to city fire headquarters. A thermal imaging camera is requested.
UPDATE 1:21 p.m.: This is a one-story wood-frame structure.
UPDATE 1:33 p.m.: Responding units on the road told to come in non-emergency mode; staging area is on the south side of the address. All available interior manpower on scene called to fight the fire.
UPDATE 1:52 p.m.: Fire is under control; doing extensive overhaul.
UPDATE 1:53 p.m.: The fire appears to have been started by a hot water heater. Flames went up the walls into the attic. Firefighters are dousing hot spots now.