Image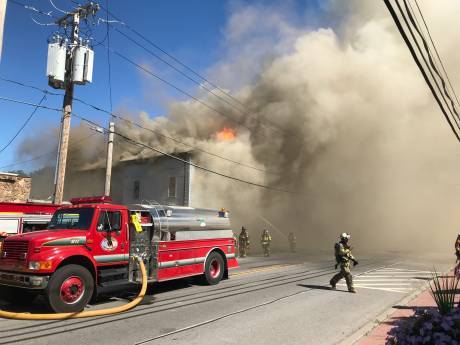 A fully involved structure fire is reported at 1 S. Main St., Elba, the Stumblin' Inn.
Elba fire dispatched. 
Batavia's Fast Team, Oakfield, Alabama, also dispatched.
UPDATE(S) (By Billie) 9:49 a.m.: Byron Fire Department is asked to stand by in its fire hall. Fire police are coordinating to shut down roads in the vicinity to accommodate fire equipment. National Grid and National Fuel contacted to shut down utilities. The upstairs apartment is in flames.
UPDATE 9:55 a.m.: Barre Fire Department is called to provide mutual aid.
UPDATE 9:57 a.m.: More Elba Fire Police are called to the scene. Firefighters are going to hook up a ladder in the back to attack the fire. "Can you get the owners off that back deck?!" one firefighter yells to another.
UPDATE 10:02 a.m.: "Smoke is changing. Smoke is changing -- gettin' darker!" a fireman says.
UPDATE 10:06 a.m.: "Presbyterian Church people are startin' to show up. They can get to the church but they can't get much farther," says a fire policeman. More fire police from Barre, Byron, Oakfield are to be called to the scene.
UPDATE 10:09 a.m.: All interior firefighters are ordered out of the structure.
UPDATE 10:10 a.m.: Mercy medics #2 and #3 are called to the Stumblin' Inn.
UPDATE 10:17 a.m.: Utility reps are on scene. All power is turned off. National Fuel rep is on scene. National Grid has a 30-minute ETA. Power needs to be shut off still. Byron is asked to send an engine to stand by in Elba's hall.
UPDATE 10:27 a.m.: Two Barre Fire Police have arrived. One will be deployed at Church Street, the other at Bridge. Tankers called to provide mutual aid from Bethany, Stafford and Alexander.
UPDATE 10:36 a.m.: A tanker from East Pembroke is called to the scene.
UPDATE 10:52 a.m.: More fire police are called in from Stafford, East Pembroke and Alexander. They are going to post someone at Drake Street Road and Weatherwax Road, and then at Pekin Road and "back out to Townline." National Grid is arriving on scene.
UPDATE 10:57 a.m.: All occupants are believed to be safely out of the building.
UPDATE 11:03 a.m.: The Elba chief said the first started on the northeast corner of the first floor and flames were shooting out of three windows when they arrived. Now there is heavy black smoke showing but no flames. More fire police out of Orleans County are called in. "People are sneakin' by" laments the Elba Fire Police commander.
UPDATE 11:38 a.m.: All eastbound traffic will be closed at Route 262 per fire command. Law enforcement is requested to the fire command center.
UPDATE 12:07 p.m.: Power to the village is shut off.
UPDATE 12:56 p.m. (By Howard): The chief reported the fire under control about 10 minutes ago. Extensive overhaul underway. Power will be restored to the village shortly.
UPDATE 1:11 p.m.: Red Cross requested to the scene to assist one adult.
UPDATE 2:04 p.m.: Firefighters are packing up. An excavator is arriving on scene to finish demolition of the building.
UPDATE 5:45 p.m.: Roadways are being reopened.
UPDATE 6:30 p.m.: Elba assignment to 1 South Main St. is back in service.
Image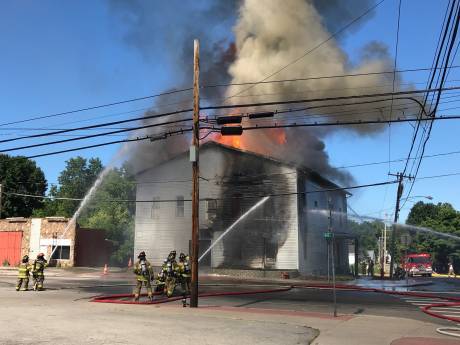 Image