September 5, 2018 - 6:49pm
Fundraiser going ahead for family of Michael Tenebruso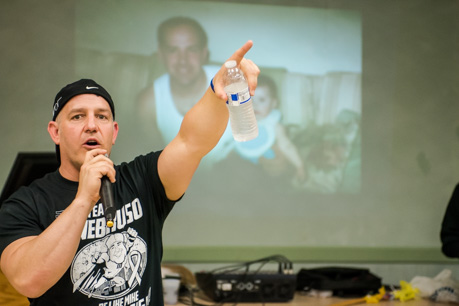 There will be a fundraiser Sunday at The Yngodess Shop, 73 Main St., Batavia, Sunday, starting at 12:30 p.m. to benefit the family of Michael Tenebruso.
Tenebruso, who grew up in Batavia, died after a lengthy battle with cancer six days ago at age 50. Tenebruso leaves behind three children.
The fundraiser includes a chicken BBQ, live music and a basket raffle.
In April 2016, more than 400 people turned out for a fundraiser to benefit Tenebruso at Ascension Parish (top photo). 
The North Chili resident graduated from Batavia High School in 1986 and later received his bachelor's and master's degrees in Elementary Education and Educational Administration, respectively, from SUNY Brockport. 
His career in education took him to schools throughout Western New York as a teacher and administrator. While teaching at Elba he was named Teacher of the Year.
From his obituary:
Michael's persona was larger than life. He was a friend and role model to all. Most importantly, Mike's selflessness and devotion to mankind was most evident at home where he was a kind and nurturing father to his three beautiful children. Michael battled his illness head-on for six long years, facing every set back with grace and dignity. He never gave up. Cancer did not take his passion for life, his mind, or his soul as he closed his eyes for the last time.
The Tenebruso family will be present on Friday from 1 to 8 p.m. at the Michael S. Tomaszewski Funeral & Cremation Chapel, 4120 W. Main Street Road, Batavia. There will be a Mass of Christian Burial at 10 a.m. Saturday, Resurrection Parish, 303 E. Main St. Batavia. He will be lain to rest in St. Joseph's Cemetery.