December 23, 2020 - 9:35pm
Funeral home owner accused of stealing from customers makes first appearance in County Court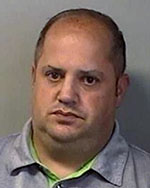 Michael Tomaszewski
Funeral home owner Michael S. Tomaszewski, arrested in July after an investigation that uncovered multiple incidences of potential fraud, was arraigned in Genesee County Court today on more than 200 counts of grand larceny, falsifying business records, offering a false instrument in filing, scheme to defraud, and failure to deposit.
As he did when first arrested and arraigned in Town of Batavia Court, Tomaszewski entered a not guilty plea.
Tomaszewski waived his right to have a grand jury review the evidence against him and potentially issue indictments against him. He was arraigned on what's known as Superior Court Information (SCI) that lays out all the charges in the same form as a grand jury indictment.
It is 101 pages long.
Tomaszewski is accused of taking money people used to prepay for funerals and instead of depositing the money in appreciate bank accounts then using the money for other purposes.
The SCI indicates the majority of customers lost from more than $2,000 up to $15,500 each.
The charges include: 67 counts of third-degree grand larceny; 28 counts of fourth-degree grand larceny; four counts of falsifying business records; 93 counts of failure to deposit; seven counts of petit larceny; and counts of offering a false instrument for filing in the first degree; and scheme to defraud.
During the virtual arraignment today, the attorneys discussed the possibility of reaching a plea deal within the next six weeks.
Tomaszewski remains released from custody on his own recognizance. His next scheduled court appearance, which will also be virtual, is 1:30 p.m., Feb. 2.
Alecia Kaus/Video News Service contributed to this report.
Previously: