November 21, 2016 - 3:22pm
GCASA's medical consultant receives lifetime achievement award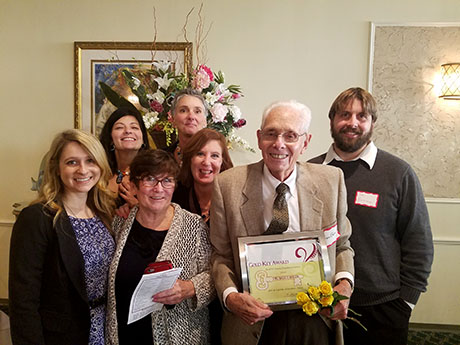 Press release:
The Western New York Chemical Dependency Consortium held its annual Gold Key Awards and Holiday Luncheon in Buffalo on Friday, Nov. 18. Dr. Bruce Baker, currently a medical consultant for GCASA, received the Lifetime Achievement Award. 

Dr. Baker graduated from the University of Rochester School of Medicine and Dentistry in 1959. He worked as the Genesee County Jail physician for 25 years, which is where he began addressing substance abuse issues with his patients. He also worked as the medical director of Hope Haven Alcohol and Chemical Dependency Inpatient Service at United Memorial Medical Center from 1963-2013. While Dr. Baker has been a physician for almost 60 years, he has worked in the addiction field for more than 35 years. 

Dr. Baker has been on the cutting edge of addiction medicine throughout his career. He was an early adopter of Medication Assisted Treatment (MAT). As the medical director at Hope Haven, he was responsible for the initiation of Suboxone treatment. He recognized early on, especially working at the Genesee County Jail, that individuals who suffered from addiction needed treatment, both medically and therapeutically. 

Dr. Baker is extremely knowledgeable about addiction. He shares his knowledge with others in a straightforward, uncomplicated way. He created an easy to understand document, Opioid Addiction and Medically Assisted Treatment, to share with his patients. In this document he describes what opiate addiction is, how the brain is affected, and how MAT can help. He truly wants to help people; and he does. Dr. Baker has helped thousands of patients in the WNY region recover from addiction. 

When asked about his greatest accomplishment in his career, Dr. Baker acknowledged his service of providing medical care to patients for more than 50 years. He adds that at 83 years old, he plans to continue practicing and loves the work he does at GCASA. Dr. Baker shared that of all the work he has done throughout his career, including delivering babies and working in his family practice, he feels most fulfilled in his work at GCASA. His compassion for his patients is exceptional. 

In addition to his career accomplishments, he's very proud of his family. He and his wife raised six children and have a total of 21 grandchildren and great-grandchildren.