October 3, 2018 - 3:25pm
GCEDC brings job opportunities to Southside residents at St. Anthony's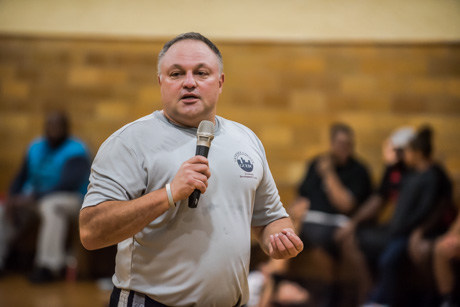 As part its workforce development mission, the Genesee Economic Development Center has been participating in Tuesday evening activities at St. Anthony's, run by City Church, by bringing in recruiters to help connect members of the community with job opportunities.
Last night, Remedy Staffing was on hand to let community members know they can help get job seekers interviews with local companies.
Chris Suozzi, VP of business development for GCEDC (top photo and playing basketball below), told the people gathered in the gym during a break in the basketball games that there are more than 1,000 jobs available in Genesee County, including jobs that pay $15 an hour or more and jobs that provide a career path for advancement.
"Whether you're looking for full-time or part-time work there are jobs you can get started on tomorrow," Suozzi said.
Ryan Macdonald, who supervises Tuesday night activities at St. Anthony's, reminded the crowd they asked for help with finding jobs which is why GCEDC and Remedy staffing were on hand.
Kathryn Kempisty, client partnership supervisor for Remedy, said it would only take 30 seconds of a person's time on Tuesday night and a 30-minute meeting sometime in the next week in order for Remedy to line up job interviews with local employers.
"If you don't know what you're looking for, we can let you know about the options," Kempisty said. "There is so much out there that we can't wait to have you come into our office."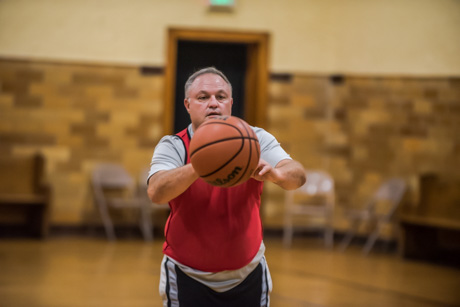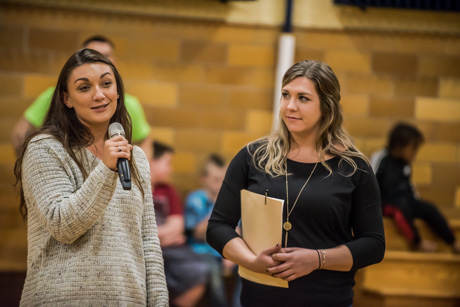 Kathryn Kempisty and Brittany Nadrowski, Remedy Staffing.