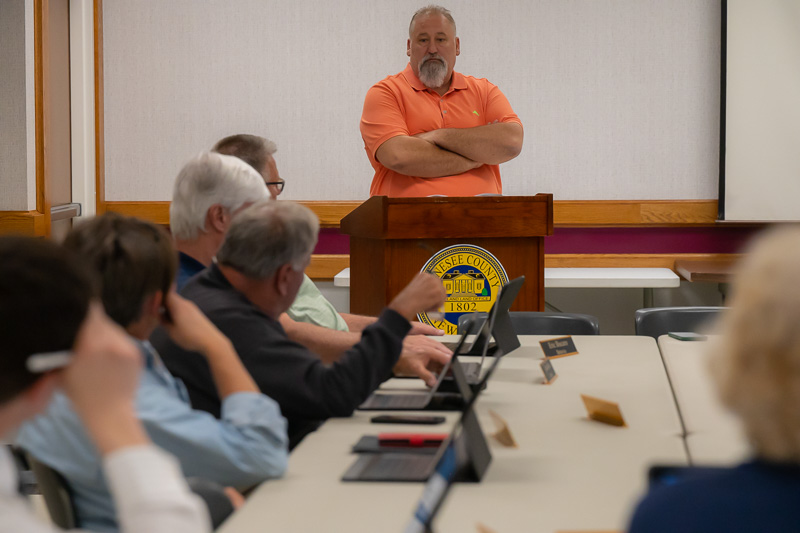 Developer David Mazur said he's been building apartment complexes and running the ones he builds for 18 years.  He has a formula. He knows it works. And he knows the type of tenants he expects to be attracted to his units.
With that experience, he's sure the 80-unit complex he is proposing for Medtech Park by GCC will be market rate, with rents ranging from $1,350 to $1,895 per month (that rate could be as much five percent higher once construction is done, he said).
To qualify for a rental agreement, tenants must have a job, if not retired, and a monthly income of 3.5 times the monthly rental rate.
That rules out college students as potential tenants, he said, and parents can't co-sign for a child. Whoever signs the rental agreement must live in the apartment, he told the Genesee County Planning Board at Thursday's meeting.
After his presentation, when told that other developers have promised market-rate complexes only to change the terms during construction, he said he's 100 percent certain that won't be the case with his development.
"I have never had a project go a different direction other than market-rate," Mazur told The Batavian ."So I'm not sure what happened in the past with other developers or what their performers were, what their plans were, but this is 100 percent designed to be market rate."
The Grand Island-based developer said in his other projects, 60 percent of his tenants are seniors, sometimes retires, with the balance being working professionals.  The seniors, especially, he said, are looking for and demand quality units.
"(Countertops are) either gonna be quartz or granite," Mazur said. "All the finishes are higher end. That's where go back to, like I said, retirees because it's 60 percent of my base at other locations. They want it. They want just new, fresh, crisp places. Some have never lived anything brand new. They look at it, like, I want it, this is what I'm going to live in."
There will be 60 garages for the 80 units, with outdoor parking available for the rest.  
Amenities will include a dog park, and the complex is pet friendly, with some restrictions on dog sizes.  Tenants in apartments with shared hallways are limited to smaller dogs, less than 30 pounds.  The townhouse apartments will have a bit more flexibility, he said.
When Mazur found out the Medtech land was available for development, he said he saw an opportunity to do what he's done successfully in places like Grand Island and Tonawanda -- to build a complex for people that want to be close to a city center -- such as Batavia -- while taking in the country air.
"That's our portfolio," Mazur said. "It's full of what I call country or township apartments. When I found the parcel was available, to me, it made sense. You're a stone's throw from the action downtown. And, you know where the property's sitting -- we can't promise what's going to happen in the future, what else is going to be built there, but right now, it's farmland. So it's gonna be a nice setting for people to have the dog park, walking areas, things like that." 
He said he hasn't investigated bus routes in the area but said that most people moving into market-rate apartments own a vehicle. 
The plan calls for six 12-unit buildings and one eight-unit building with 24 three-bedroom apartments, 42 two-bedroom, and 14 one-bedroom, with 36 single-car detached garages.
The total project cost is expected to exceed $12 million.
Jim Krencik, senior director for marketing and communication for the Genesee Economic Development Center, said the Genesee Gateway Local Development Corporation, an adjunct to GCCEDC, approved a sale agreement for Mazur to acquire the 14 acres for the proposed development in December for $200,000.
"With the support of the Town of Batavia, City of Batavia, and GCEDC, we're pleased to see Countryside Apartments moving forward," Krencik said. "This project enhances our market-rate housing stock and can accelerate our Batavia Home Fund to support future residential improvements in the city."
The Batavia Home Fund collects revenue from developments and makes the funds available for rehabilitation and similar projects for residential homes in Batavia. 
Krencik said the Countryside development is eligible to contribute to that fund but not draw from it.  
Mazur said he doesn't know yet if he will apply to GCEDC for any potential project assistance.  It's early in the planning process, he said, "and that's putting the cart before the horse."
Based on his previous experience, Mazur said he believes he won't have an issue filling all 80 units once the project is complete.
"Like I said, we've been in the business  now for about 18 years, and I've had people with me that have been there the whole 18 years. So, again, the style of buildings that we're building, we build the same buildings in different townships, we already know our cost structure, we know our problems, and we tweak the issues from the first project to the second project. We may change color, and it will be different for different townships, but really, it's a process that works for us. And it takes a lot of the risk out of the game."
Previously: Apartment complex with 80 units proposed across the road from GCC