July 13, 2016 - 8:39am
Genesee ARC celebrates successful 40th anniversary golf tournament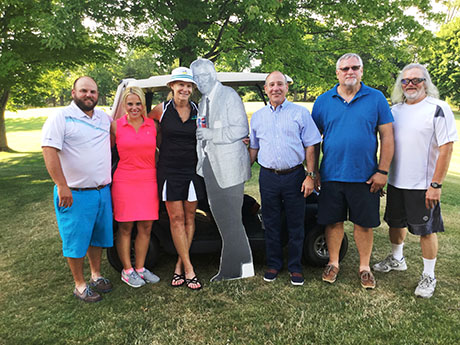 Press release:
The 40th Annual Genesee ARC Golf, Tennis & Bocce Tournament at Stafford Country Club held this past Monday was dedicated in memory of Ralph Houseknecht, a longtime tournament supporter, disability advocate and friend of ARC who passed away earlier this year.

Prior to the start of golf, ARC Executive Director Donna Saskowski said "Ralph spent much of his life helping Genesee ARC and the people we serve, most notably as the first local businessman to offer community employment opportunities to individuals with intellectual disabilities, when he ran Pepsi of Batavia."

She encouraged the 120 golfers including five Houseknecht children and three grandsons to play in Ralph's honor and enjoy the game as he did.

In golf play, coming out on top was Zach Fuller who shot a 72, followed by Mark State with 77, and a tie for third with Paul Barton and Tom Burgess, both shooting 79. Low gross honors for women went to Francesca Fuller with an 88.

In the low net category, Jim Gibson came in with a 65 followed by Chuck Graney, 66, and Bill Wassink, 67. Katie Houseknecht Berger had a low net score of 67 for women.

In the blind bogey competition, Alan Saskowski and John Ottaviano matched the blind bogey number drawn of 72.

There were several contests on the course including the longest drive on 7, Jesse Luxon and closest-to-the-line on 15, Al Leaton. In the closest-to-the-pin contests, Mike Davison won a golf bag, courtesy of C.H. Wright on 8 (3'9"); Bruce Partridge, Donnie Miller and Mark Houseknecht won cash prizes on 12 and Katie Houseknecht Berger won a Schwinn bicycle, donated by Adam Miller Toy and Bicycle in the top prize on 14.

The hole-in-one contest on 8 was sponsored by Castilone Chrysler Dodge Jeep Ram. Unfortunately, no one shot an ace to drive away with a 2016 Jeep Wrangler Sport.

In bocce, the first-place team was Yvonne Branton, Jane Scott, Kathy Zeliff and Chris Fix.

Top score in tennis went to Steve Clemm. First-place team honors went to Phil McNulty and Marjorie Fulmer and second-place team went to Hollis Upson and Jim Fulmer.

Gold sponsors of the event were Turnbull Heating & Air-Conditioning, The Bonadio Group, Graham Corporation, MTE Turf Equipment Solutions/Tom & Lynn Houseknecht, Crickler Vending and Relph Benefit Advisors. Silver sponsors were: The Daily News, Oakfield Family Medical Care, Alpina Foods, Erie and Niagara Insurance Association, In Memory of Ralph Houseknecht, Tompkins Bank of Castile, Castilone Chrysler Dodge Jeep Ram, Tops Friendly Markets, Bessey Tools, Parkview Health Services, Genesee Valley PennySaver, Rochester Regional Health/United Memorial Medical Center, One Group and The Insurance Center.

Also supporting the event were 16 golf sponsors, four tennis sponsors, eight bocce sponsors and six Friend of ARC Tournament sponsors. Door Prizes, silent and Chinese auction items were donated by dozens of area businesses. The 2016 cart sponsors were Manning Napier, Orcon Industries and Philadelphia Insurance.

A total of 120 golfers, 12 tennis players and 32 bocce players participated in the annual event that raises money to benefit programs and service for people with disabilities served by Genesee ARC. The winner of the $1,000 cash drawing was Ron Brueckner with ticket number 11966. The ticket seller was Deb Hinze of Batavia. The ARC/Lullo Memorial tournament is named in memory of Danny Lullo. Mr. Lullo was a local businessman who came up with the idea to hold a tournament to benefit Genesee ARC programs and services for people with disabilities in our community.

The Genesee ARC/Lullo Memorial Tournament is the longest-running charity event held at the local private club.