August 4, 2016 - 1:13pm
Genesee County in drought warning, but local water supply remains sufficient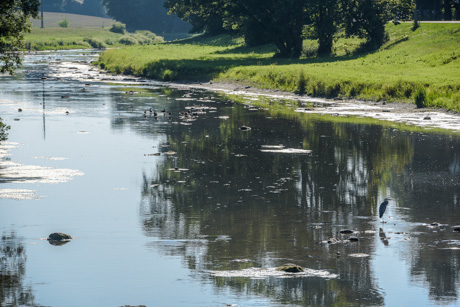 There isn't much water flowing in the Tonawanda Creek, but the blue heron are still there hunting for meals.
Genesee County, like the rest of Western New York, is officially in a drought warning, according to the Department of Environmental Conservation.
That means there are no official restrictions on water use, but residents and businesses are asked to voluntarily conserve.
Tim Hens, whose responsibilities include, as county highway superintendent, watching over the county's water supply, said the county and city discussed issuing a water advisory, but decided that doesn't appear to be necessary and probably won't be necessary through the summer, even if no significant rain arrives before winter.
"We haven't had more than an inch of rain in a single day since October of last year," Hens said. "That's a long time for Western New York."
He said this is the dryest summer with the most consecutive sunny days he can remember in 45 years as a county resident.
"Unfortunately, we're probably already past the point of no return for farmers," he said.
Hens said current reserves and the available water from the Monroe County Water Authority gives the county, and by extension, the city, enough water to meet current needs and he doesn't anticipate a spike in demand.
"Most people seem to have given up on their lawns," he said.
The low water level at DeWitt Recreation Area has created a wide land bridge to the lake's island. The land bridge has been exposed all summer and the first time it's appeared in several years. The current level is just 3 inches above the record low, a record set in 2001.
The long-range forecast calls for a pretty snowy winter.