December 18, 2017 - 12:55pm
Holmes Named USC Scholar All-American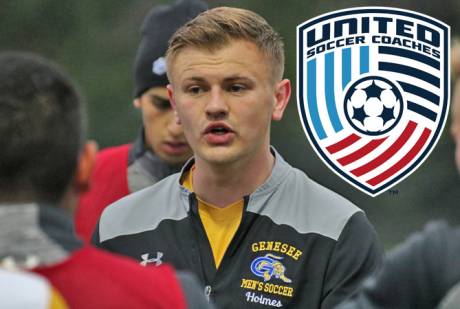 Press release:
Genesee Community College men's soccer captain Glenn Holmes was named to the United Soccer Coaches Junior College Men's Scholar All-America First Team Dec. 15 by the national chair of the USC Junior College Men's Scholar All-America Committee, Chris Handy. Holmes will be honored by the UCS at its 71st convention in January 2018.

The 2017 National Junior College Athletic Association National Champion Cougars were co-captained by Holmes, who hails from Kildare, Ireland. The sports management major was just one of four overall junior college players who were recognized as first-team selections both on the field and in the classroom by the USC. At the junior college division-three level, he was just one of two to achieve the feat and the lone defensive player in the country.

Although known more for his stealth defensive play, Holmes' offensive numbers were quite astonishing. He led all NJCAA defenders in points with 32 and goals with 13. In addition, the Genesee sophomore was the catalyst behind the team's amazing run that ended with a 10-game winning streak and a 20-game unbeaten streak in bringing the Cougars its first national championship in soccer.

This is the third time Holmes has been honored this season as a first-team all-American. In addition to the two aforementioned USC All-American accolades, Holmes was also named to the NJCAA All-American squad as well.