June 28, 2019 - 12:41am
House fire reported on Junction Road, Pavilion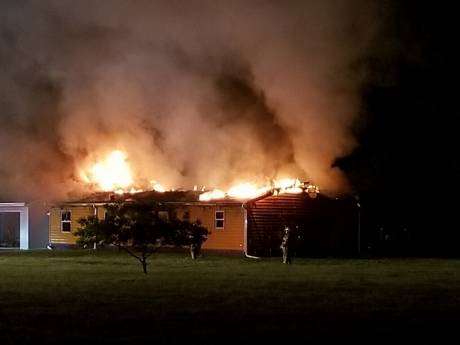 A house fire is reported at 6616 Junction Road, Pavilion.
Both occupants were exiting the house
Pavilion fire, Le Roy fire, and Stafford dispatched.
UPDATE 12:44 a.m.: Fully involved structure fire with flames coming through the roof. City fire and Alexander dispatched.
UPDATE 12:50 a.m.: A chief calls for a defensive attack.
UPDATE 12:54 a.m.: National Grid called to the scene.
UPDATE 1:40 a.m.: Caledonia to proceed to the scene and Bergen to fill in at Le Roy.
UPDATE 3 a.m.: Information and photos from Alecia Kaus/Video News Service: The house is a total loss. The homeowner (listed on the county tax website as Kenneth Reamer) woke up to a fire in the house. A friend was sleeping on the couch. The owner called 9-1-1 grabbed one of his cats and ran out. The other cat was seen running out of the house. No cause of origin of the fire yet released.