August 15, 2021 - 9:23pm
House fire reported on Swamp Road, Byron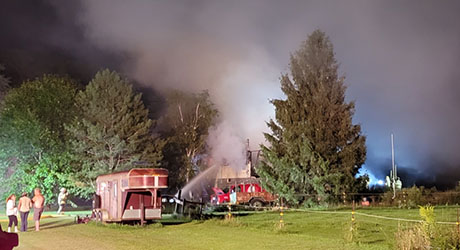 A fully involved house fire is reported at 6718 Swamp Road, Byron.
Byron and South Byron responding. 
A second alarm is called with Bergen, Elba, Oakfield, and the City's Fast Team dispatched.
UPDATE 9:37 p.m.: Per command, all tankers can go back in service.
UPDATE 10:25 p.m.: Fire is out and under control, reports command.
UPDATE 8 a.m.:  Reported by Alecia Kaus: "According to Genesee County Fire investigators, one person was home at the time of the fire. They were able to get out of the house along with the family dog. One cat is still unaccounted for. One other resident who lives in the home was not home at the time. Investigators are looking at a window air conditioning unit as a possible cause of the fire. The home is a total loss. Residents will be staying with family."
Photo by Alecia Kaus/Video News Service