February 4, 2022 - 3:17am
House fire reported on Walnut Street, Batavia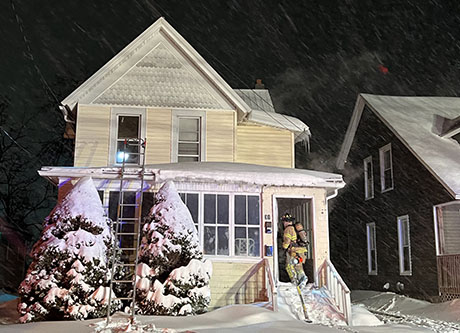 A house fire is reported at 31 Walnut Street, Batavia.
Dispatchers report multiple calls.
UPDATE 3:22 a.m.: City  Fire on scene reporting light smoke out of second-story window.  A patrol officer first on scene reported the fire may have originated in a downstairs kitchen and extended upstates.
UPDATE 3:23 a.m.: All platoons recalled to headquarters.
UPDATE 3:48 a.m.: All occupants were out of the two residences safely.  The fire is out and firefighters are conducting overhaul and checking for extensions.
UPDATE Friday morning:
Press release:
On Friday, February 4, 2022, at 3:16 a.m., the City of Batavia Fire Department responded to a reported house fire at 31 Walnut St. in the City of Batavia.  Initial fire units arrived to find smoke emanating from a two-and-a-half-story, two-family home.  Fire crews entered the home to find a fire in the kitchen that was quickly extinguished.  Three occupants were home at the time of the fire and escaped unharmed prior to the fire department's arrival.  Residents are being assisted by the American Red Cross.

No civilian or firefighter injuries were reported.    

The cause of the fire was determined to be accidental by City of Batavia Fire Department fire investigators.   

The City of Batavia Fire Department was assisted by the City of Batavia Police and Water Departments, Genesee County Emergency Dispatch Center, the American Red Cross, National Grid and National Fuel.