March 1, 2022 - 1:10pm
In cross-county match, O-A beats Pembroke to head to C2 sectional finals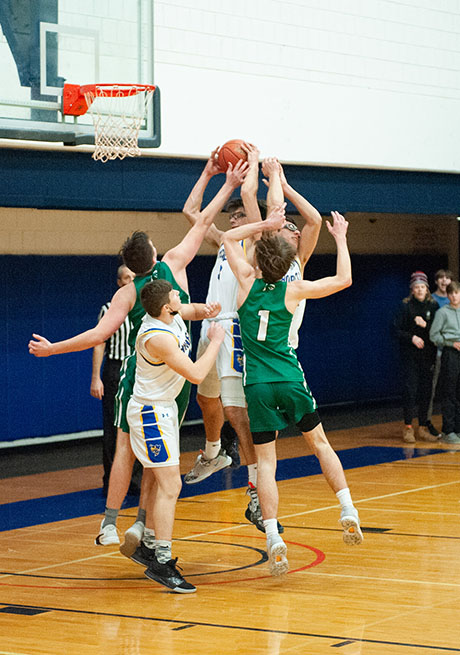 Oakfield-Alabama turned on the jets in their Class C2 sectional semifinal, running away from cross-county rival Pembroke for a 61-31 victory.
For the Hornets:
Gaige Armbrewster, 18 points, five rebounds, eight assists
Kam Cusmano, 12 points, four rebounds, three assists
Kaden Cusmano, 11 points 10 rebounds, four assists, three blocks
Kyle Porter, eight points
Jordan Schlagenhauf, seven points
For the Dragons, Tyson Totten scored six points and Cayden Pfalzer scored five.
The Hornets are now 21-1 on the season.
"Getting to this point in the season is something special," said O-A Head Coach Ryan Stehlar. "You have to make the most of your opportunities and I felt we did that tonight against a very good team.  Coach (Matt) Shay is a great coach and prepares his teams so well.  We had to be locked in defensively from the start.  The boys made that their main priority.  I loved the energy they brought and the focus they had on both ends of the floor.  The crowd and support at GCC was fantastic and made for an exciting game.  I can't thank our fans and community enough for their constant support.  We are going to enjoy this game tonight but will need to get back to work tomorrow for the next step."
The next step is against Lyons (21-1) at 7 p.m., Friday, at Victor HS.
Photos by Karly Smith.  For more, click here.