June 2, 2017 - 7:36am
John Kennedy receives $5K from Lowe's for STEAM program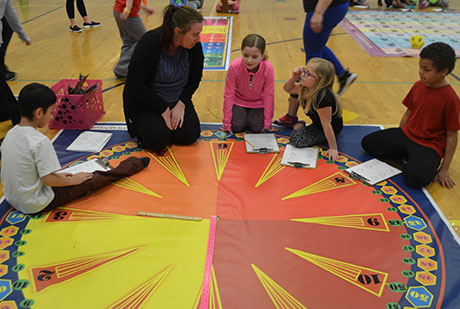 Press release:
John Kennedy Intermediate School has received a $5,000 Lowe's Toolbox for Education grant to purchase "Math and Movement" materials for The JK STEAM Program.

"We had the Math and Movement day with Suzy Koontz in April and can now purchase mats of our own to have here at John Kennedy thanks to Lowes," said Melissa Calandra, who spearheaded John Kennedy's STEAM (Science, Technology, Engineering, Art, Math) Program for fourth-graders this year and will take charge of the STEAM lab for all JK students, grades 2-4, next year.

During the Math and Movement day, students moved to the mathematics lessons – emphasizing patterns, stepping out calculations, and working out concepts on large mats. They were able to practice addition, subtraction, telling time, multiplication, division, fractions, place value, and geometry – and with physical movement incorporated into the brain work, the information was a lot of fun – and better retained.

Lowe's, which seeks to approve grants that improve learning communities, noted that, "These materials will allow for a kinesthetic, multisensory approach to teaching math that incorporates physical exercise, stretching, and cross-body movements. Using the mats, students are 'moving to the numbers.' " The mats will be ordered by the end of this school year to arrive in time for use next year in the STEAM lab. 

All K-12 public schools in the United States are eligible for the Toolbox for Education program.  More information is available at www.ToolboxforEducation.com.