July 23, 2017 - 3:00pm
Kiwanis honors Dick and Betty Rung for donations to fight Lyme disease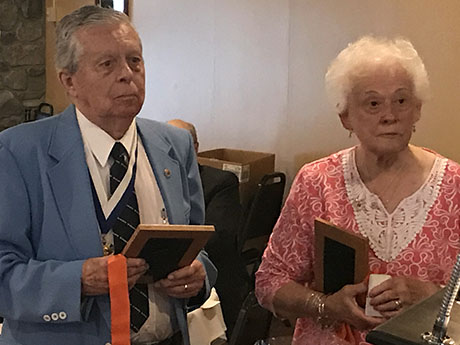 Dick and Betty Rung were honored Saturday night at the District Council meeting of Kiwanis at B.W.'s Restaurant in Pavilion for their support of the Lyme Disease Foundation.
Their monetary donations were recognized with the Brittany Fellowship Award and an Emerald Fellowship Award.
Lyme disease is a bacterial infection transmitted by deer ticks. The disease affects the brain and can cause severe symptoms. The treatments are expensive and often not covered by insurance. The foundation assists those afflicted by Lyme disease.
Presenting the awards were Peter and Doreen Pellittieri, board members for the New York Pediatric Lyme Disease Foundation.