December 29, 2017 - 9:59am
Lady Bees capture tournament title with 56-48 win over Greece Odyssey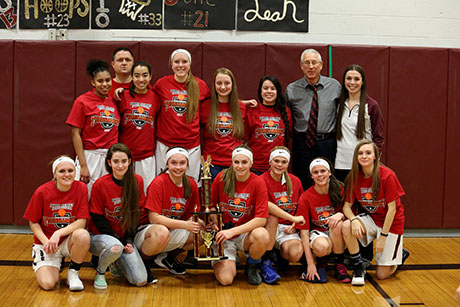 The Byron-Bergen Lady Bees beat Greece Odyssey on Thursday night to capture, for the second year in a row, the Sports Boosters Tournament championship.
The Bees came back from a 29-23 half-time deficit to win 56-48.  
After starting the season with three losses, Byron-Bergen has won five in a row.
On Thursday, Juliana Amesbury had 19 points, Kelsey Fuller 14 and Miriam Tardy with 12. Odyssey Shyasia McCullough had 16 points.
Byron-Bergen's Kelsey Fuller was named tournament MVP. The rest of the all-tournament team is Lydia Borrelli from Le Roy, Shyasia McCullough and Abby Wilson from Odyssey and Juliana Amesbury.
Information submitted by Kathryn Krzewinski. Photos by Tammy Fuller.