March 1, 2018 - 11:27am
Lady Hornets fall to South Seneca in sectional semifinal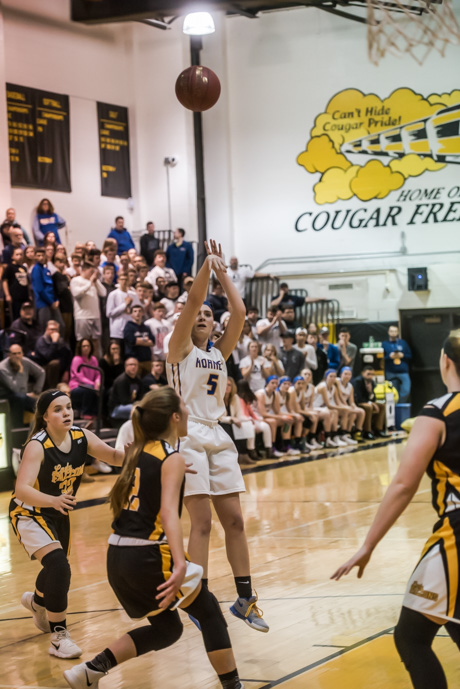 Oakfield-Alabama's fine season, which included 19 wins, came to a disappointing end Wednesday night in the Class D1 Section V semifinal playoff game against South Seneca.
The #4 seeded South Seneca knocked off the #1 seeded Lady Hornets 68-44.
Brianna Smith scored 16 points for O-A and Kylie Schlagenhauf scored 15.
In the girls' Class C1 semifinal, also played Wednesday night, Notre Dame beat Red Creek 52-48. 
Margaret Sutherland and Callie McCulley each scored 12 points, Natalie Thornton scored 11, Morgan Rhodes scored nine and Stevie Wilcox scored eight. Wilcox had 13 rebounds and Thornton had 10.
In girls' basketball tomorrow, Elba plays for the Class D2 championship in Gainsville against Andover at 6 p.m. 
Pavilion plays Saturday against Wheatland-Chili for the Class D1 championship in Letchworth at 8 p.m.
Notre Dame vies for the Class C1 championship in Rush-Henrietta at 3 p.m., Saturday, against Letchworth.
In boys' basketball, the lone Genesee County team still in the hunt for a sectional championship is Pembroke, who take on Northstar Christian for the Class C1 championship at 5 p.m. tomorrow at Blue Cross Arena.