October 3, 2018 - 2:38pm
Le Roy math teacher selected for Master Teacher program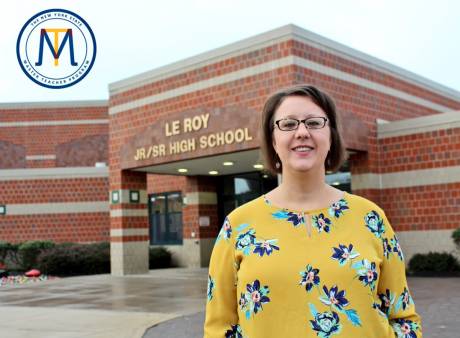 Press release:
Le Roy Central School is proud to announce that Jr.-Sr. High School Math teacher Taryn Nole was one of the 275 educators from across the state selected to join the New York State Master Teacher Program.

Mrs. Nole is in her 17th year teaching at Le Roy and has taught eighth-grade Math, Geometry, Pre-Calculus, and AP Calculus over her years with the Oatkan Knights. For the last five years, she has served as the 7-12 grade Math Department chair. 

Taryn Nole
"When I learned of the work the NYS Master Teacher program was doing I made it a professional goal of mine to become a part of the program. Through collaborations with other teachers, I will be able to strengthen my pedagogical skills and deepen my math content knowledge. This opportunity will allow me to share best practices with other educators as I continue to look for ways to improve my students' experiences in the classroom."

Merritt Holly, Superintendent -- Le Roy Central School
"Congratulations to Taryn Nole on being selected to join an elite group of educators in the New York State Master Teacher Program! Taryn's dedication to teaching, especially in the area of mathematics, has been a great resource for our District as she continues to encourage more students to pursue STEM studies and careers. To join a list of 275 new members and 980 total Master Teachers across New York State is a great individual honor for Taryn and for our Le Roy Central School District students."   

Tim McArdle, Principal -- Le Roy Jr.-Sr. High School
"We are beyond excited to have Taryn be selected for the NYS Master Teacher Program. Taryn's willingness to grow as an educator and as a lifelong learner has allowed her to continue to expand her instructional skill set and serve our students at a high level every day. She is also a teacher leader willing to work with colleagues to enhance educational practices both in our district and regionally. Taryn positively impacts students in a myriad of ways in and out of the classroom year in and year out. Congratulations to Taryn and her family!"