December 4, 2017 - 5:56pm
Le Roy senior awarded full scholarship to Yale University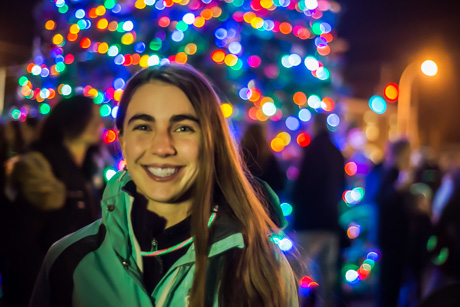 Le Roy's Alex Wynn is Yale-bound. The high school senior has won a full scholarship to the prestigious university from QuestBridge.
Wynn is among 918 students selected by QuestBridge for a 2017 National College Match scholarship that sends high-achieving, low-income students to top universities.
U.S. News and World Report ranks Yale as one of the top three universities in the nation. Yale counts among its graduates presidents (both Bushes, Bill Clinton, Gerald Ford), world-renowned actors (Meryl Streep, Paul Newman, Jodie Foster), and business leaders (Indra Nooyi, CEO of Pepsi, John E. Pepper Jr., CEO of Walt Disney Co.), along with leaders in many industries and professions.
Alex said she learned about QuestBridge during her junior year and decided to join more than 15,000 other high school students who would seek a QuestBridge scholarship.
The process included a visit to Yale, which helped convince Alex that Yale was where she wanted to go if given the chance.
"Yale has been my top school ever since I was afforded the opportunity to visit last June," Alex said. "Despite my love of the school, its low acceptance rate made me believe that I never would actually be accepted, let alone be offered a full scholarship. Words cannot describe how grateful I am to be able to attend my dream school for the next four years, nor can they describe how incredibly excited I am for this amazing opportunity."
She will major in Chemical Engineering.
"I feel extremely fortunate to have the opportunity to work with a student of Alex's caliber in the first year of my career as a school counselor," said Austin Dwyer, a counselor at Le Roy High School. "On the very first day of school, Alex introduced herself to me and informed me she was applying to a National College Match Program that included some of the most selective schools in the entire country.
"Alex has been an outstanding self-advocate for herself, especially throughout the extensive application process of this program. Alex is truly a 'go-getter' when it comes to accomplishing something, whether it is in the classroom or an extracurricular commitment, and has been a great role model for our students."
Principal Tim McArdle said Alex has worked hard and the school is proud of her.
"Alex's commitment to academic excellence coupled with a passion for participation in music, athletics, and other extracurricular clubs, along with service in our community has made her an ideal Oatkan Knight whose journey is inspiring," McArdle said. "She has pushed herself in the classroom to always challenge her intellect and fulfill her love of learning.
"Evidence of her success can be found all over our school from helping launch our Knights' Tech Desk to excelling in her AP courses to performing in our marching band and musical pit. We are very excited for her and her family; it is truly life-changing, and we are so proud! I would like to thank QuestBridge for their commitment to college-bound students across the country."
Photo: Alex Wynn, taken Saturday night at Le Roy's Christmas Tree lighting.
December 5, 2017 - 8:18am
#1
Congratulations! I am sure your parents and family are very proud of you. Your hard work has paid off. Wishing you much success.