July 23, 2017 - 2:27pm
Le Roy students participate in Camp Invention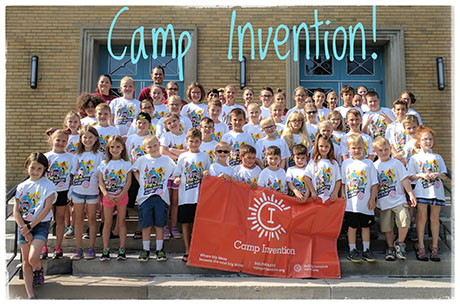 This past week, students in the Le Roy Central School District participated in Camp Invention, which was a chance for kids to apply the skills and knowledge associated with STEM (Science, Technology, Engineering & Math) to see what they could create from their own ideas.
This was the first year for the weeklong camp, which had 46 participants.
Lessons explored by students:
Duct Tape Billionaire: Students launched their own accessory business with creations made from duct tape! They learned about patents, designing a product, creating a mock-up and presenting to potential investors "Shark Tank Style."
Mission Space Makers: Students created new planets for human habitation. They grew crystal trees and hatched eggs in the Space Lab and created their very own planetary system through lots of teamwork.
Have a Blast: This module focused on engineering different launching tools such as snowball throwers, balloon catapults, a giant air cannon, bubble blasters and more.
Operation Keep Out: Hands down this was a camper favorite! Students brought in old items such as DVD players or VCRs, X-Box remotes, radios and used reverse engineering to take them apart. Then they used items from their Take Apart to create their very own spy gadget box equipped with an alarm.  
Part of the instructional team included seven leadership interns from Le Roy Jr./Sr. High School as well as three counselors-in-training. These students ranged from grade seven to seniors and each received 40 hours volunteer credit, a certificate and letter of recommendation.
Sponsors included: Camp Invention, Wolcott Street School, Beth Russ, Julie Cook, Brandie Rogoyski, Rotary Club of Le Roy, PARP, Le Roy Tops Market, Woody's Deli, and Woodward Memorial Library.
Information and photos provided by Jen Bertrand, instructional tech coach, at Le Roy CSD.