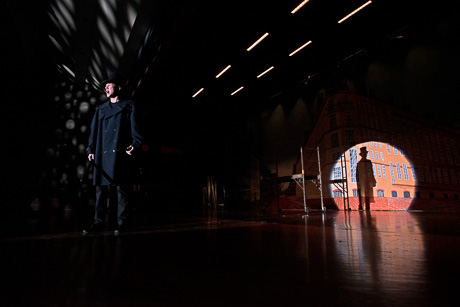 The ideals of courage and love, the life lessons of heartbreak and passion, the resilience of the human spirit, these are the themes that play out in the musical "Les Miserables," said Jacqueline McLean, the artistic director of the Le Roy High School production of the classic Broadway show.
Le Roy will perform a version adopted for high schools next weekend.
"The most important theme, in my opinion, is the importance of standing up for the dignity of the human person," McLean said. "Victor Hugo wrote the novel Les Misérables to exploit and criticize the injustice of 19th century France. This novel transcends time and still speaks of ideals that are important today, such as the rights of women, intergenerational conflict, and conflict with the government. This show is meant to renew the human spirit.
"We hope that this show and these amazing students will help you to reflect on how precious life is and how beautiful it can be even in the darkest of days and nights," she added. 
Jean Valjean is played by Evan Williams.  Williams starred in last year's production of "Newsies" and was a finalist in "Stars of Tomorrow" in Rochester in 2022.
Additional roles:
Inspector Javert, Nathan Yauchzee  
The Bishop of Digne, Alex Doty  
The Factory Foreman, Cooper Terry  
Fantine, Ashlyn Puccio  
Bamatabois, Jackson Cain  
Fauchelevent, Carter Fix  
Young Cosette, Leah Cashin
Madame Thénardier, Aubrey Puccio  
Young Éponine, Madelyn Emke  
For more information on the production and full cast, click here.
The play is being performed in the Le Roy Jr.-Sr. High Auditorium, 9300 South Street Road, Le Roy.
In-person show times:
Thursday, March 9 at  7 p.m.
Friday, March 10 at 7 p.m.
Saturday, March 11 at 7 p.m.
Tickets: Pre-sale Student/Senior Citizen: $10 Pre-sale Adult: $12. For pre-sale tickets, click here.
At the Door Student/Senior Citizen: $12; At the Door Adult: $15.
There are also two virtual performances: 
Friday, March 17 at 7 p.m.
Saturday, March 18 at 7 p.m.
Ticket prices are $10 for one viewer and $30 for family viewing.
To purchase virtual performance tickets, click here.
Photos by Howard Owens.