December 19, 2017 - 12:39pm
Lions rename and dedicate annual basketball tournament for Peter Arras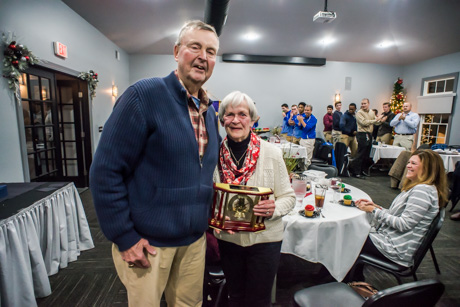 Thirty-five years ago Peter Arras convinced his fellow Lions Club members in Batavia to start a Christmas basketball tournament and then he ran it for more than three decades. At the tournament's annual kick-off dinner last night, Arras was honored and the tournament was officially renamed The Peter Arras GCC Basketball Tournament.
The Arras family was on hand for the dinner, including his widow Nancy Arras, above, who received a memorial clock from the club, presented by Dave Van Scoy. Van Scoy is a former superintendent of Batavia City Schools and Pete Arras was principal at Jackson School until his retirement. Arras passed away in October at age 77.
Lions member Ross Fanara was friends with Arras since Fanara was 10 and Arras was 12. They met on a baseball field and Fanara quickly learned, seeing Arras long frame sling an overhead fastball his way, that young Peter was a natural and gifted athlete.
He loved all sports, Fanara said, and excelled not only at baseball and basketball but football, golf, bowling and racketball.
As an athlete and educator, he was dedicated to the youth of the community, Fanara said.
"Mentally, morally, spiritually and socially he was always a class act," Fanara said. "He was truly a role model to our youth and continued to be even after his retirement. It is only fitting and richly deserved that the Batavia Lions Club Christmas Basketball Tournament will now be known as The Batavia Lions Club Peter Arias Memorial Basketball Tournament."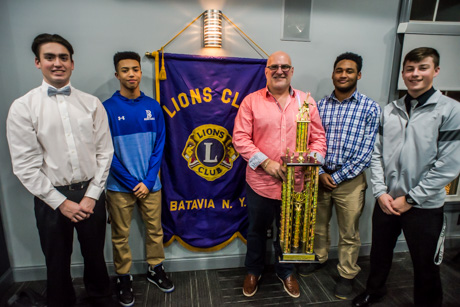 Players from the four teams participating in the tournament this year -- Notre Dame, Batavia, Albion, and Elba -- attended last night's dinner. Pictured are Christian Cleveland, Notre Dame, Naz Pratt, Batavia, Demetrius Gardner, Albion, and Ben Pflaumer, Elba. Holding the trophy is Tony Scalia, the new tournament chairman.
The first game is at 7 p.m., Dec. 27 (a week from tomorrow night), with Notre Dame and Elba. Elba will look to avenge the team's only loss of the season, which came in overtime, on Notre Dame's home court 74-72. The nightcap opening night, at 8:30 p.m., is Batavia vs. Albion. Albion is a smaller school, but it will put a lot of big, experienced players on the court. It, too, should be a good game.
The finals are the following Friday, Dec. 29, with the consolation game at 7:30 p.m. and the championship at 8:30.
Scalia said the tournament format will change next year, going to eight teams in two brackets. The Class A and Class B schools will be in one bracket and the Class C and Class D schools will be in the other bracket. This should make the tournament more competitive, Scalia said. Batavia will be vying for the championship against schools closer to its own class.
During the dinner, Batavia Head Coach Buddy Brasky mentioned that Pete Arras gave Brasky his first teaching job in the City School District at Jackson School, which allowed Brasky to become Batavia High School basketball coach.