April 12, 2018 - 2:33am
Man shot and killed after pointing handgun at deputy outside Log Cabin Restaurant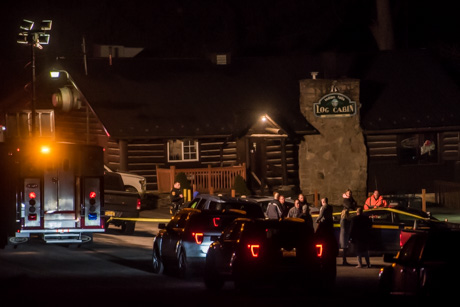 A Sheriff's deputy dispatched to a report of shots fired at the Log Cabin Restaurant at just before 11 p.m. Wednesday shot and killed an armed suspect after the suspect pointed his weapon at the deputy, according to Undersheriff Gregory Walker.
"Officers were responding to the scene (for a report of shots fired) and when they got here they found the suspect in the parking lot," Walker said. "The officers yelled commands to him; when they yelled the commands to him, he turned towards one of our officers and pointed the gun at our officer. Our officer did take the shot and the suspect was killed."
The suspect's weapon was recovered at the scene, Walker said.
Since the shooting involved a Sheriff's deputy, the State Police were asked to lead an independent investigation. Walker said he expects a joint Sheriff's Office and State Police press conference later this morning or early afternoon to discuss the incident in more detail.
At this time, Walker said, investigators do not know why the suspect was firing his gun.
The only person shot was the suspect. He has not yet been identified. Nobody else was injured in the incident.
While details of the incident have not been confirmed yet, it's possible, Walker said, the suspect did fire his weapon both inside and outside the restaurant before law enforcement arrived on scene.
There were customers and staff in the restaurant when the incident started.
The suspect was armed with a handgun, according to Walker, and officers were informed before arriving on scene that there was confirmation of shots being fired at the location.
The name of the deputy involved has not been released.
The Log Cabin Restaurant is located at 1227 Gilmore Road, Indian Falls. At this time, Gilmore Road remains closed between Route 77 and Akron Road.
Neither Walker nor Chief Deputy Jerome Brewster could remember another officer-involved shooting in Genesee County in the past 30, 40, or more years. Brewster said he thinks the last one involved Batavia PD on Oak Street in the 1970s.