April 12, 2018 - 10:26am
Man shot by deputy at Log Cabin was looking for a fight according to early reports from the scene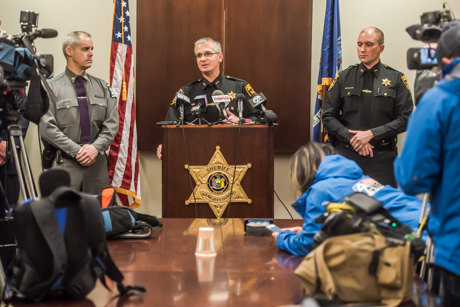 UPDATE 11:40 a.m.: The name of the man shot is Keith A. Kent, 61, of Albion.
A man who was shot and killed outside the Log Cabin Restaurant late last night was causing a disturbance inside the establishment, according to Undersheriff Gregory Walker, and said at one point, "where are the police?"
The man was challenging people inside the restaurant to a fight, trying to convince them to meet him outside, Walker said.
Deputies were dispatched to the restaurant a little before 11 p.m. for the disturbance and while in route were informed of the reports that shots where fired.
"The officers were given a description of the subject who had the handgun," Walker said during a press conference this morning at the Sheriff's Office on Park Road. "When they arrived in the parking lot they saw a subject who matched the description and also when they arrived there was a shot that was fired as officers arrived on scene."
Officers shouted numerous commands for the subject to drop the weapon, Walker said.
"He did not comply and the officers had to shoot and did kill the subject," Walker said.
The name of the deceased has not been released yet pending notification of his family.
Walker said the man did turn and point his gun at a deputy.
Walker confirmed that deputies were wearing body cams and body cams were recording at the time of the events. That video footage is still under review.
He couldn't say, with the limited information still available, how many officers -- including state troopers and possibly Batavia PD -- were on scene at the time of the shooting.
While it appears there were shots fired inside and outside the restaurant that hasn't been confirmed yet through the investigation. 
Walker said he could not say yet how many shots were fired, either by the subject or by police.
The type of handgun used by the subject was not released nor was information released about whether it was legally owned, by whom and whether the subject had a permit. 
Since the shooting involves a member of the Sheriff's force, there will be an independent investigation of the shooting.
While the name of the deputy involved hasn't been released, Walker said, "He's doing OK considering the circumstances. We will be spending a lot more time with him and helping him out to get through this circumstance."
Major Edward Kennedy, State Police, Troop A, said the investigation will be conducted just like any other investigation -- the forensic evidence will be gathered, evidence reviewed and witnesses interviewed.
"I understand your questions," Kennedy said. "They're relevant. They are absolutely understandable but they are things we cannot comment on. This is currently an active crime scene. We are in the very early stages of an investigation. This is a tragedy for everyone. That is the best we can give you right now."
Previously: Man shot and killed after pointing handgun at deputy outside Log Cabin Restaurant