November 5, 2018 - 9:00am
McMurray stumps in Batavia in effort to visit every county of NY-27 on campaign's last weekend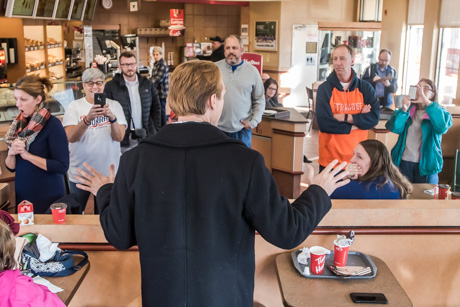 In the past three weeks, Rep. Chris Collins has made eight campaign stops, according to his Twitter feed, and none of them have been in Genesee County.
His opponent, Nate McMurray, made eight stops in just two days, including one Sunday morning at Tim Hortons in Batavia.
"I feel we're going to win," McMurray said. "I mean, I had people in Albion and Medina yesterday running up to me or stopping cars because they recognized me. I never had that experience in my life."
Whether McMurray's prediction of victory is confidence or overconfidence, we won't know until late Tuesday night but McMurray said he also feels the weight of the world when he thinks about winning. He knows it will mean that a lot of Republicans in this bright red district put their faith in him.
"I had Republicans coming up to me saying 'we believe you, do not let me down,' " McMurray said. "I could see they were serious, like, 'we've been let down, don't let me down,' and I'm like 'I'm not lying. This is who I am. I'm going to fight for you and I'm going to learn from you.' And I think honestly, I'm not trying to be glib, but I have learned from the people of this region and I'm humbled by it."
McMurray, who told reporters he's lost 30 pounds since the campaign started, has made an issue of the tribalism and cynicism that has gripped American politics and has vowed to break down those barriers. That, too, will create a responsibility for him if he wins, he said.
"I think a lot of people are so beaten down by politics and they become so pessimistic and just so dismissive of their political leadership," McMurray said. "For whatever reason, they're starting to feel hope in me in this campaign and I feel a great duty towards them, and on both sides of the aisle.
"Obviously, as a Democrat running here, I'm going to have a bigger burden to prove to Republicans that they can trust me and they can vote for me again."
He said he has run his campaign with little to no Democratic party input or influence and very little help, and vowed that if he won he would not buckle to pressure from Democratic leaders to conform to their views of the world.  
The latest polls show the race a toss-up that will come down to the wire. The state just released updated registration numbers for the NY-27 that may put a little wind behind McMurray's sails. The Democrats registered 1,848 voters compared to only 467 for Republicans.
Previously: Profile: Nate McMurray, Democratic capitalist, bucking the trend of his party