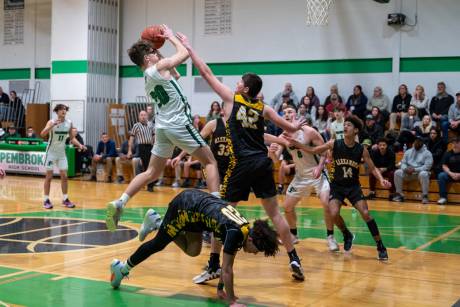 Cayden Pfalzer became Pembroke's all-time leading scorer in Boys Basketball and Tyson Totten scored his 1,000th point on Friday as the Dragons went on to beat Alexander 81-55 in their sectional playoff game.
Pfalzer needed 24 points to reach 1,128 and pass J.P. Coles and Pfalzer finished with exactly 24 points on the night.
Totten entered the game with 999 career points so hit the milestone with his first bucket of the night. 
Pfalzer, who has played varsity since his freshman year, has averaged 21.6 points per game this season.
Totten averaged 10.8 points per game his freshman season and was the leading scorer in the league his sophomore year, averaging 20.8 points, and came back his junior year to again lead the league in scoring with 20.3 points per game.
"We knew from a young age that Tyson had a chance to be a great player," coach Matt Shay said. "He and Cayden are some of the hardest workers I have ever been around. He has committed to time in the gym, time in the weight room, and camps in the summer and it is paying off. I'm also really proud of him because he has improved his all-around game. I've challenged him to be a better passer and defender, and he's made considerable strides in both areas."
On Friday, Avery Ferreira scored 12 points for Pembroke. Chase Guzdek scored 10 and had 10 rebounds and Jon Sure had five assists.
Alexander's Dylan Pohl scored 22 points and Kingston Woods scored nine.
"I wasn't really pleased with how we played defensively, giving up 31 in the first half," Shay said. "Credit to coach Hanley and his squad on how they executed their game plan, we're really having a tough time with it. We played much better in the second half."
Photos by Alison Lang.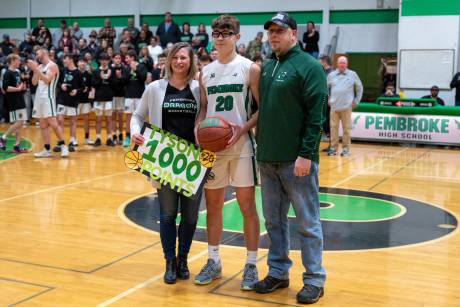 Tyson Totten with his parents, Jamie Totten and Jamie Totten.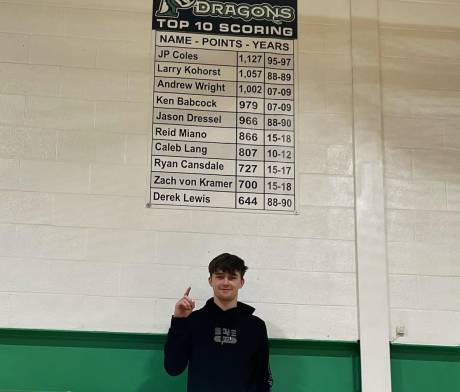 Cayden Pfalzer (Submitted photo).