July 14, 2022 - 4:15pm
Muckdogs creep into first place, with five players now on All-Star roster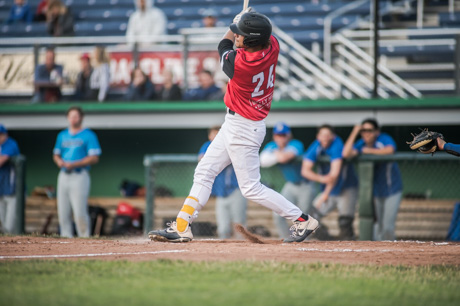 With a 5-3 win over Elmira on Wednesday, Batavia Muckdogs moved into first place, by percentage points, in the Western Division of the Perfect Game Collegiate Baseball League.
At 20-10, the Muckdogs' winning percentage is .667. Utica is 22-12 for a percentage of .643.
In the win, tall Texan Daniel Burroway hit his first home run of the season. He had two RBIs. Medina's Brian Fry was 2-4, raising his season average to .379. Tyler Cannoe, hitting .330 on the year, was 1-3. Columbia University sophomore Kyle Corso, hitting .291, was 2-4. 
Jack Nielsen went five innings and gave up seven hits and three runs. Aidan Cooney allowed five base runners, three hits and two walks, but no runs to pick up the win. Julian Pichardo pitched two scoreless innings to get the win.
Five Muckdogs were named to the PGCBL All-Star team for the Western Division.
Catcher – Levis Aguila
Infield – Tyler Cannoe
Infield – Brian Fry
Pitcher – Josh Milleville
Pitcher – Nolan Sparks
The league will not play an All-Star game this season.
Top photo: File photo of Muckdog's all-star Brian Fry.