July 31, 2018 - 2:04pm
Muckdogs hire minor league groundskeeper with major league dreams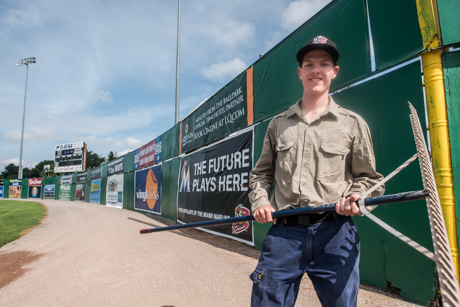 Many young men have passed through Batavia over the years with dreams of making it to the major leagues -- Cito Gaston, Doc Ellis, Manny Sanguillen, Chase Utley, Ryan Howard -- all had solid careers.
But none of these players -- nor those who never made it -- were quite like Cooper Thomson.
Thomson doesn't slug homers or swat singles. He's never had his fastball clocked at 90 mph, let alone 98. He might be able to field a grounder or track down a fly ball but that isn't really what he wants to do.
His dream is to keep the grass green, the foul lines straight and infield dirt as smooth as the felt on a pool table.
Thomson arrived in Batavia on Thursday night after a 30-hour flight from Australia, chasing his big league dream: To be the guy taking care of a major league field.
That only happens in North America and it means making a name for yourself, so when Dave Chase, first-year general manager of the Batavia Muckdogs, told him there was a need for a head groundskeeper 9,401 miles from his home, Thomson didn't hesitate. He was ready to go.
That was the easy part. Getting Thomson through the visa process took some time, which is why he's only arriving in Batavia this week.
Now his goal, to turn the field at Dwyer Stadium into the best field in the New York Penn League. He'll have help from Joe Mogavero, who has been taking care of the field during the first half of the season.
"Aesthetically, you want it to be as good as you can for the fans but more for the players and the teams," Thomson said. "It's more playability and keeping the field consistent so they know exactly how the field is going to play day in and day out."
One of the issues with the field that Chase mentioned during the off-season was the high lip of grass around the infield, the batter's area, and the pitcher's mound.
When Thomson started work Friday morning, the first task at hand -- fix the lips.
"I'm a massive stickler on that sort of thing," Thomson said. "We're still doing work on it. It's really an everyday thing to get it perfect so we'll be working on it every single day, especially on game days. Bringing a major league feel into a minor league ballpark is what I'd like to do here."
Thomson became the Muckdogs' top prospect for all things turf and dirt related after Chase called Murray Cook, who is the guy to know the world over if you care about the quality of your ball field.
Chase was in a bind. He was only a few weeks into his new job as GM for the Muckdogs, after the NYPL took over ownership of the team, and he realized he needed to hire a new head groundskeeper. By that time, any groundskeepers with any experience were already committed to other ballparks.
Cook said he knew this 20-year-old kid in Australia who was ready to move up.
"Murray's word is gold in the groundskeeping business, so when he endorsed him it was a no-brainer," Chase said.
In 2014, the Dodgers and Diamondbacks played the first MLB regular-season games ever in Australia and though Thomson didn't work on the field, he was obsessed with the work of Murray Cook and his crew.
"They made a cricket oval into a baseball field, which just blew my mind," Thomson said. "I followed it intensely and when I saw how a big league field is supposed to look on our soil that was like a trigger point. I knew I needed to work hard and get a reputation myself so I can be over here (in the states)."
Cook learned of Thomson through the Australian Baseball League, which is sponsored by Major League Baseball, and since some U.S. prospects play in the ABL, the fields there have to be kept to MLB standards. That's where Cook comes in. It's his job to inspect the fields and often his staff works with Australian groundskeepers.
Thomson started his groundskeeping career when the ABL came to Brisbane a year before that 2014 game when he was 15 years old.
"They played at a showground so we had to bump the field in, bump the field out because they had concerts or whatever there," Thomson said. "Me and this other guy just got really good at putting in a brand-new field and taking it away. So I got like OCD (obsessive-compulsive disorder) about it and eventually got a head job at the new stadium in Brisbane. I just loved it."
That's a level of training that isn't available in places where baseball is more established.
"It was pretty intense," Thomson said. "I got to know a baseball field like the back of my hand. I was pretty obsessed with how a baseball field is set up and how it's made."
He wanted his fields to be major league quality.
"Where money and equipment lack, you've got to work hard so I just got a real obsession for trying to make it look like fields over here. I just tried to make my field look as good as it could in Australia and I compared it to all the U.S. fields. I thought if I could do that, that would be like a massive tick on my bucket list."
He came to the attention of Cook when he was working with Cook's team on the fields for the World Baseball Classic qualifiers.
Cook's staff recognized the kid's passion, hard work, and knowledge of the craft and asked if he would like to work in the United States at some point and Thomson said that was indeed his goal. They said they would be in touch.
Since the initial job offer during the off-season, Thomson has been following all the news about the Muckdogs and the team's home field. He has been making plans all that time -- about how to get the outfield grass striped like a major league field, adding a team logo behind home plate, improving the playability of the field.  
As he's said, he can be obsessive about these things.
"I know the field has not really been outstanding the past couple of years but I would really like to turn it around and make it one of the best fields in the league," Thomson said. "That is my main objective. As soon as I knew I was coming over here I was saying, like in my head, 'Batavia is going to be the number one field in the league.' That's my main goal."
If he does that well, he might someday wind up running the show at Marlins Park, or perhaps Dodger Stadium. We mention L.A. because that's where Thomson has come the closest so far to actually walking on major league grass.
"I did do the stadium tour once in Dodger Stadium," Thomson said. "We went all through the stadium and when we got to the bit where we finally go on the field they were like, 'sorry, we're not going on the field. They're shooting Moneyball,' and I'm like, 'that's what I came here for! I just want to get on the field.' "