June 13, 2018 - 11:09pm
New and returning Muckdogs excited to get the season under way at improved Dwyer Stadium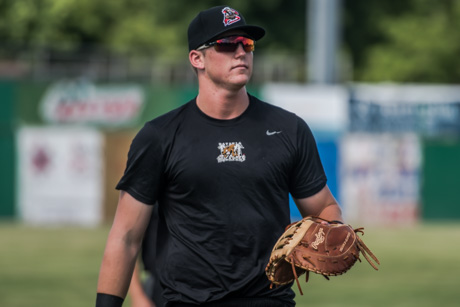 Here's a reason to come out to Dwyer Stadium to see the Batavia Muckdogs this season starting Monday: To see if Sean Reynolds can develop into a big, powerful Major League first baseman.
At 6' 7" and 220 pounds, Reynolds (top photo), a fourth-round draft pick last year from Redondo Beach, Calif., projects as a power bat in the middle of the Miami Marlins line up someday. He's not there yet, however, so he's back in Batavia for a second season to see if he can harness his big swing and make more consistent contact.
Muckdogs Manager Mike Jacobs (second photo) thinks Reynolds is one of the good reasons fans have to settle into a seat at Dwyer Stadium in 2018.
"Hopefully he continues to make strides," Jacobs said when asked to single out some of his best players. "He should be able to do some good things here."
He also likes what he sees in Demetrius Sims. Described in scouting reports as a shortstop with blazing speed, Sims is also in his second stint with Batavia but Jacobs said he should make games exciting for fans.
In all, there are nine players on the roster who are on a second tour with the Muckdogs, which Jacobs said is a good thing. It should mean better quality baseball.
"That's going to help the guys who are here for the first time," Jacobs said.
The pitching should be better and the defense should be better.
"The main thing is, they will be prepared to play every night," Jacobs said. "That's for sure. We're prepared to play fundamentally sound baseball and hopefully, the offense will take care of itself."
Among the returning players, for those who are fans of Ivy League baseball, is Harrison White, whose degree is from Yale and acquitted himself well in Batavia last season, hitting .280 with 21 walks, 12 RBIs and 15 runs scored.
Also on the roster is Trevor Rogers, the Marlin's number-one draft pick in 2017. He's a 6' 6" left-handed pitcher but so far he's a Muckdog on paper only. He isn't in town yet and Jacobs said the way things work, just because he's currently listed on the roster doesn't mean he will wind up in Batavia.
For the returning players the changes at Dwyer, with the team under new ownership and management, is exciting, Jacobs said.
They noticed the changes as soon as they arrived at the ballpark.
"You want to be proud of where you play," Jacobs said. "You want to be proud of your facility. You want to be proud of your home every day. There's still a long way to go but there are things in progress. They put a whole new infield in. It's not quite to where we need it yet but it's getting close. Like I said, they redid the clubhouse, cleaned it up, put in some new carpet, and some paint, and like I said, just watching the players walk in and look at that, they're pretty excited just about that, so I think they're excited to get going."
Game time Monday is 7:05 p.m.