March 5, 2018 - 9:32pm
New local dental lab looks to built relationships with dentists to benefit patients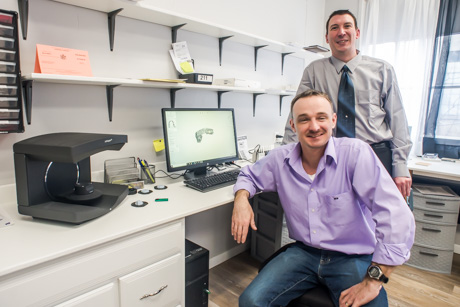 Up until now, according to Noah Whiteford, local dentists, when working with a lab on crowns, implants and dentures, would have to call on a large firm from outside the area.
There was a certain personal touch missing.
Whiteford and his partner think they've solved that problem with their new business, Whiteford Dental Lab, which they just opened in the Harvester Center.
"One of advantage is we're located in Batavia and we can service the local doctors," Whiteford said. "A lot of people can do pick up and delivery but what we can do is be chairside with the doctor, helping out with treatment plans and doing custom shades and things like that, which this rather underserved market doesn't ordinarily get -- a technician who will be there to help them along the way."
Another advantage, Whiteford said, is the knowledge and experience of himself and partner Dave Vining. 
"I've been doing this for 18 years," said Whiteford (seated in the photo with Vining). "My best friend's father owned a dental lab and I learned from him and then I went to courses across the country learning my trade and working in different laboratories. Dave actually went to went to ECC for this and got a two-year degree in dental technology. We've both been in the field for 15 to 18 years."
They see their market as all the dentists, not just in Genesee County but the surrounding counties as well, which means they can provide personal service they don't think is otherwise available. 
Vining said by keeping it local they will be able to build up relationships that will ultimately benefit patients.
"We're really gunning for great customer service," Vining said. "It's tough to compete with the big market shares so we're going offer something a little bit more personal."
Whiteford Dental is located on the third floor of the Harvester Center and can be reached at (585) 813-5726.