November 13, 2017 - 11:54am
Notre Dame inducts 2017 Hall of Fame members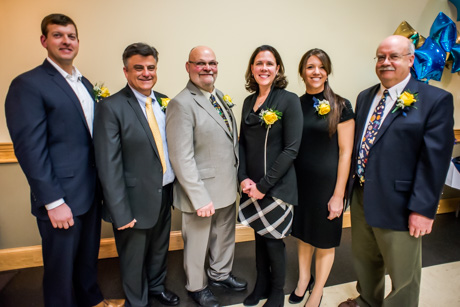 Notre Dame High School inducted its 2017 Hall of Fame members during a dinner at Ascension Parish on Saturday night. Pictured are Sean Flynn, Mike Francis, Dave O'Connor, Monica Dillion, Jenny Cocco and Joe Scanlan.
David O'Connor, Class of 1967
Dave O'Connor was a standout three-sport athlete during the heyday of ND's participation in the Bishop Smith Division of the Buffalo Catholic League Msgr. Martin Association. Like his Darien Center brothers – Dick ('64) and Dan ('69), he was a mainstay for Fighting Irish Varsity Football, Wrestling and Track and Field teams during his four-year tenure [1963 – 1967] at ND.
A key member of ND's 1st Bishop Smith League Football Championship team also being honored tonight, Dave was a four-year member of the Fighting Irish Varsity Football team and had the distinction of being the only member of his class to play Varsity football as a freshman. He was recognized as the Most Valuable Player [MVP] of the 1966 Varsity Football team and received All-Catholic recognition as the Smith Division 1st team fullback during his senior year.
A well-rounded competitor, Dave was also recognized as the MVP of his Varsity Wrestling and Varsity Track and Field teams during his senior year at ND. As a wrestler, he earned All-Catholic honors in the heavyweight classification in tough Smith League competition and captained the Fighting Irish Bishop Smith League 1967 All-Catholic Championship team during his senior year. Weighing 180 pounds, Dave often wrestled up to the 255-pound weight class whenever additional points were needed! He had the distinction of only losing one Varsity match during his star-studded four-year wrestling career on the mats at ND!
As a member of the ND Varsity Track team, he established the All-Catholic record in the shot put as a freshman and went on to hold ND school records in the shot put and discus and was a member of the 880-yard relay team by the time he graduated in 1967. He was also named the recipient of the E. Lawrence Spring Award for ND school spirit on and off the field of play as a senior.
After his ND graduation, Dave attended Erie Community College where he earned an AAS [Applied Arts and Sciences] degree. He was the President of the ECC Athletic Society and wrestled collegiately earning the overall MVP Athlete-of-the-Year award in 1969.
In 2014, Dave trained and competed in the West Virginia Senior Olympics in the shot put and discus, scoring well enough to qualify for the national senior Olympics in Minneapolis in 2015. Dave and his wife Marcia are the parents of two children -- Andrea and Benjamin – and nine grandchildren and currently reside in Morgantown, W. Va. Dave is employed by the Monroe County Board of Education Transportation Department as a bus driver.
Michael Francis, Class of 1980
Mike Francis had the unique distinction of representing Fighting Irish Football and Basketball teams in both Bishop Smith League and NYSPHSAA Section V [Rochester Region] competition! As was the case with his athletic brothers John ('66), Ron ('67), Fred ('69) and Mark ('75) before him, Mike was a high pro le student-athlete during his four years [1976-1980] at ND participating in four years of Varsity Football and Varsity Basketball, two years as a member of Varsity Track and Field and one year as a member of Varsity Baseball.
Mike truly made his mark on the gridiron during his junior [1978] and senior [1979] seasons. As a junior, he was ND's Most Outstanding running back, a member of the 1978 Genesee Region [GR] Championship team and received 1st team GR All-Star honors as a running back. He was also named to the prestigious Rochester Democrat and
Chronicle All-Greater Rochester [AGR] all-star team in that same year as a wide receiver [45 catches, 849 yds, 15 TDs].
As a senior, he was once again a member of the 1979 GR league Football championship team and named a GR league 1st team All-Star for the second straight year. Mike was also a member of ND's 1979 Section V Class C Championship Football team and was again recognized as a member of the Democrat and Chronicle's AGR all-star team, this time as a wide receiver as well as a running back where he accounted for 15 TDs. The 1979 ND team MVP and New York State all-state selection, Mike was also named to the Rochester Times-Union "Super 22" all-star team as a running back.
As a member of the ND Varsity Basketball program, Mike was named team MVP during his sophomore year while playing in Bishop Smith league competition and a Genesee Region [GR] All-Star during his junior and senior seasons after ND left the Smith League for local Section V competition. As a senior, he was named to the all-tournament team in the Albion Christmas tournament.
He was also a member of the Fighting Irish Baseball team which competed in the Bishop Smith league as a sophomore as well as the ND Varsity Track team his junior and senior years as a sprinter.
Mike played one year of collegiate football during his freshman year as a wide receiver for the Canisius College Golden Grif ns. The parent of three sons – Mitchell, Richard, and Andrew -- Mike resides in Tonawanda and currently serves as an officer at the Buffalo Federal Detention Facility in Batavia. 
Monica Dillon Billard, Class of 1982
Monica Dillon was a highly competitive four-sport student-athlete for Lady Irish athletic teams in the early portion of the 1980s. ND records indicate that the Batavia native played four years of Soccer, Basketball and Softball and three years of Volleyball during her noteworthy Lady Irish athletic career.
Monica was a key member of the 1981 and 1982 Section V Class D Championship Varsity Girls Volleyball teams. Her 1982 team finished the season unblemished while compiling a perfect 17 –0 record! She earned Junior Varsity Basketball MVP recognition in 1978 and 1979 and the Varsity Girls Basketball Coach's award as a Sophomore in 1980.
During her senior year, Monica was named to the Section V Girls Basketball All-Tournament team and received the ND Coach's Award for Varsity Volleyball. She was also named to the Genesee Region [GR] Softball All-Star for the second consecutive year while also receiving additional recognition as the Varsity Lady Irish Softball MVP.
Monica was named the ND Female Athlete-of-the-Year during her senior year [1981-82] of Varsity competition. After graduating from ND in 1982, Monica went on to Marietta College [Marietta, Ohio] where she earned her BS degree in Sports Medicine/Athletic Training degree [1986]. She continued her athletic career at Marietta where she played four years of Varsity Volleyball for the Pioneers and, as a senior, co-captained her collegiate Volleyball team while earning 1st team All OAC [Ohio Athletic Conference] honors in the process! Monica also played 3 years of collegiate softball and one year of crew during her college career.
After graduating from Marietta, Monica moved to Boston and earned her MS degree in Health, Sport and Fitness Management as a graduate student at Northeastern University. She worked as a trainer, fitness director and assistant General Manager of the Boston Raquet Club for 12+ years until the arrival of her first daughter, Sarah. During the next nine years, Monica was a stay-at-home mom during which time also gave birth to her second daughter, Julia, in 2002. In 2007 she re-entered the work force as a personal trainer, yoga teacher and manager of the Kingsbury Fitness Club [where she still works today] in Kingston, Mass.
In addition to a lifelong career in the fitness industry, Monica has maintained an active and healthy lifestyle while participating in sprint distance triathlons, hiking, running Boston Marathons, playing golf, biking and doing yoga!
Monica's two daughters are now teenagers; Sarah is 19 and Julia is 15; They currently reside in Kingston, Mass. 
Sean Flynn, Class of 1996
Sean Flynn was a standout student-athlete throughout his star-studded six-year career [1990 - 1996] at ND. A native of Batavia, Sean began his record-setting Varsity Golf career as a seventh grader at St. Mary's Elementary in Batavia. He earned medalist honors in the Genesee Region [GR] Sectional Golf Quali er as a freshman and went on to be a three-time ND Varsity Golf MVP! A five-time Genesee Region All-Star [Grades 7 - 11], Sean also qualified for the Section V Golf Tournament on four different occasions and the NYSPHSAA state tournament on one occasion [1995]!
Sean was also a key member of the Fighting Irish Varsity Football and Ice Hockey teams during his four years at ND. He served as Captain of his Varsity Football team as a senior and helped lead ND to the Genesee Region Division III title. A two-time MVP and talented member of ND "Irish on Ice" Varsity Ice Hockey team from 1992 - 1996, Sean was a key member of ND's first Section V Class B Hockey Sectional Championship team during his senior year during which time he was also named to the Monroe County All-Star Hockey 1st Team.
As a senior, Sean moved from the "links" to the baseball field where he earned the "Coach's Award" in route to helping the ND Varsity Baseball earn the 1996 Section V Class D title.
Sean will be remembered as a team leader and role model for a younger student-athletes throughout his accomplished sports career at ND. He earned honor roll and NYSPHSAA "Scholar-Athlete" [minimum 90-percent academic average] distinction throughout his high school career and was recognized as the recipient of the prestigious Reverend David J. Scheider Sports Loyalty Award [1994- 1995] as well as the Batavia Lions Club Bill Cook Scholar-Athlete and Athlete- of–the-Year at ND during his senior year [1995-1996].
Upon graduation from ND in 1996, Sean completed BS [Business Management, 2000] and MBA [2001] degrees at Canisius College, the Jesuit College of Buffalo. He currently works as a commercial underwriter at JP Morgan Chase in Columbus, Ohio. Sean and his wife Karyn [Sokol – ND '97] reside in Dublin, Ohio and are the proud parents of three children – Maren [8], Declan [5] and Nora [3] Flynn. 
Jennifer Cocco Rybczak, Class of 2001
Jenny Cocco was an exceptional student-athlete who began her six-year [1995-2001] Fighting Irish Varsity Swimming and Track and Field team careers as a seventh-grader at St. Joseph School in Batavia!
As a member of the Varsity Boys Swim team, Jenny was the first athlete – male or female – to compete for six years in ND's Varsity Swimming program and played a key role developing the program, as well as putting it on the Genesee Region [GR] and Section V maps.
A member of second Genesee Region Varsity Boys Swimming Championship teams [2000 and 2001], Jenny earned 17 GR League individual championships [6 – 100 yd. breaststroke, 5 -200 yd. freestyle relay, 4 – 50 yd. freestyle and one each in the 200-yard medley relay and 400 yard freestyle medley] during her six years in the pool competing against primarily male swim competition!
By the time she completed her senior swim season, Jenny – who was unbeaten as an individual in dual meets throughout her high school career -- was credited with being the ND school record holder in nine individual events [50 freestyle, 100 freestyle, 100 breaststroke, 100 buttery, 200 individual medley, 500 freestyle, 200 medley relay, 200 freestyle relay and the 400 freestyle relay]. She was also credited with being the Genesee Region county record holder in an additional five events [50 freestyle, 100 breaststroke, 200 freestyle relay, 400 freestyle relay and 200 medley relay]!
As a junior, she was a contributing member of ND's NYSPHSAA Varsity Boys Swimming Championship "Scholar-Athlete" [minimum team average of 90 percent] team – the #1 academic team in New York State!
Jenny's competitiveness transferred to the Track and Field arena each season after swimming! A six-year member of the ND Varsity Girls Track team, Jenny had the distinction of being undefeated in dual meet competition during her sophomore, junior and senior seasons!
She was an 11-time Genesee Region champion [Intermediate hurdles – 4X, 400-meter run – 3X, and 1600 meter and 3200-meter relay – 2X each] and set county records in the 400-meter run, the 400 intermediate hurdles and as a member of the 3200-meter relay. She was also a seven-time Section V Class D individual champion [400-meter run – 3X, 400 intermediate hurdles-2 X and 1600 and 3200-meter relays – 1X each] during her Varsity Girls Track and Field career.
Jenny competed at the New York State meet level twice, once as an eighth-grader where she finished fifth as a member of the 3200-meter relay team and as a senior in the individual 400-meter run where she tied the Section V 400-meter record.
After graduation from ND in 2001, Jenny attended and received degrees from SUNY Geneseo [BA – English Education] and the University of Buffalo [MA–Education]. She swam collegiately at SUNY Geneseo for four years where she was an Academic All- American who set two ECAC conference records [100 yd. and 200 yd. breaststroke], seven SUNYAC records [100-yard and 200-yard breaststroke -3X each and 400 medley relay once] and four SUNY Geneseo pool records [100 and 200 yd. breaststroke and 200-yard and 400-yard Medley relays].
Jenny currently teaches AP Literature and Composition at Altmar-Parish-Williamstown High School. She and her husband Alex Rybczak currently reside in Cicero, New York and are the proud parents of three boys – Jack [5], Vito [5] and Louie [4] Rybczak! 
1965 Fighting Irish Bishop Smith League Varsity Football Championship Team
The Fall 1965 football season at Notre Dame was a record-setting time period in school history as our Varsity Football program notched the first [of many] Bishop Smith League Championships in school history!
The Smith league championship roster featured the likes of senior Co-Captain All-Catholic Halfback John Francis ('66) -- regarded as one of the most talented all-around athletes in ND sports history, his junior QB brother Ron Francis ('67), as well as senior All-Catholic linemen Jim Schiller ('66) and Co-Captain Jim Murphy ('66).
The makeup of our 28-member Varsity roster included 9 seniors [Class of '66] Dan Callahan, Joe Chilano, John Francis, Brian Glor, Mike Lippold, Jim Murphy, Tom Petrick, Jim Schiller and Paul Tresco, 15 juniors [Class of 1967] Mike Brady, Jim Bundy, Ray Chaya, Larry Conte, Ron Francis, Jim Hedtke, Bill Johnson, John Kellner, Dave Mandeleone, Mike McGinnis, Dave O' Connor, Mike Serve, Jim Starrett, Bill Sutherland and Carl "Butch" Webster and four sophomores [Class of 1968] Bob Cline, Dave Dudek, Harry Stortz and Denny Waggoner.
Highlights of the 1965 season included speedy John Francis' four touchdown performances against Knights of DeSales of Lockport [38 - 27] as well as in ND's first-time-ever victory over the Frannies of St. Francis of Athol Springs [34 - 13], Ron Francis' two TDs in a come-from-behind 34 - 14 victory over Erie County power Alden High School and a hard fought 13 -7 victory over the Olean Archbishop Walsh Eagles after being down 7 - 0 early in the game.
The come-from-behind Walsh victory set the stage for the Smith League Championship game on a cold November Sunday afternoon against the Vikings of Bishop Gibbons at North Tonawanda Stadium. Supported by seven busloads of spirited ND student fans and down by four points with four minutes to go, Junior QB Ron Francis ('67) connected with classmate Mike Brady ('67) on a key pass that kept a fourth quarter Irish drive alive. With 52 seconds on the clock, Francis connected with Sophomore Denny Waggoner ('68) for the go-ahead TD.
Senior Co-Captain Jim Murphy ('66) iced the championship by intercepting a Gibbons pass 10 seconds later and rambling for a 23-yard TD to seal the deal. Final score: ND 25 - Bishop Gibbons 13.
Congratulations to Head Coach Bernie Fagan, Assistant Coaches Joe Eppolito and Joe Chilano and our 28-member record-setting 1965 Bishop Smith League Varsity Football Champions -- our first in school history! 
Joseph D. Scanlan, Ed.D., 1965, ND Principal: 2004 - 2015
Joseph Scanlan, Ed.D., ND Class of 1965, is being inducted into the Notre Dame Hall of Fame as an Administrator/Contributor, a role he certainly excelled at.
A lifelong LeRoyan, Joe played basketball and ran cross country, served as President of the Class of '65 and was the 1965 "Man of the Year" during his ND years. He earned both his BA in History and his MS in Education at Canisius College where he was a member of both the DiGamma Jesuit Honor Society and the Col. Richardson Army ROTC Honor Society. He attended SUNY Brockport for his CAS/SAS Administrative Certi cation and earned his doctorate [Ed.D] in Educational Administration from the University of Rochester. His wife, Kate, was Notre Dame's Campus Minister/Theology teacher for 15 years while his son, Michael ('02), played on our 2001 New York State Boys Basketball Championship team and continued the "Scanlan Tradition" as he also was named ND Man of the Year for the Class of 2002.
Scanlan spent 15 years at Byron-Bergen as both a teacher and administrator, 17 years at York as HS Principal before returning to Notre Dame where his plan to "stay a few years" turned into an 11-year stint as his Alma Mater's President/Principal! Known as "Dr. Joe" to students and staff alike, he was a student-oriented administrator who had high expectations for himself as well as for all members of the ND school community. These high expectations reaped many benefits from academic, athletic and respect for others perspectives during his tenure including ND being named the #1 academic high school in the GLOW Region during each of the 11 years he served as Principal.
A staunch supporter of Notre Dame's students on a multitude of levels, he was most visible (and vocal) at ND sporting events cheering for and offering support as well as encouragement to all Fighting Irish teams and student-athletes. Even though his job demanded a lot of time, he found the time to attend numerous athletic events making a point of attending contests of all sports while rarely, if ever, missing a home game. Our student-athletes were always well aware and very appreciative of his support which provided Dr. Joe a venue to reach them on many levels. Dr. Joe could often be heard in the halls or cafeteria offering advice and encouragement to student-athletes and nonstudent-athletes alike. Many of his athletic sayings such as "You miss 100 percent of the shots you don't take" are legendary among ND student-athletes!
During Dr. Joe's tenure, Fighting Irish athletic teams won two State championships, eight NYS Western Regional championships, 28 Section V titles, and 40 GR [Genesee region] championships as well as producing 167 NYSPHSAA Scholar-Athlete [minimum 90-percent academic average] teams.
When asked to briefly sum up his ND years, Dr. Joe said: "My love of interacting with teenagers and my longtime interest in high school athletics made attending and supervising ND Fighting Irish athletic events and rooting for our Alma Mater a perfect match"!
November 13, 2017 - 1:37pm
#1
I remember Dave O'Connor from ECC. It was called ECTI (Erie County Technical Institute) then and was still a Tri Semester school.
Dave was unbelievably strong. There was some sort of fund raiser/college event where you could hit an old car with a sledge hammer. Dave took an easier way, and just ripped one of the doors off with his hands
This is a well deserved honor for a really nice guy.