February 24, 2016 - 4:34pm
Oakfield-Alabama embraces the tech future with new instructional tools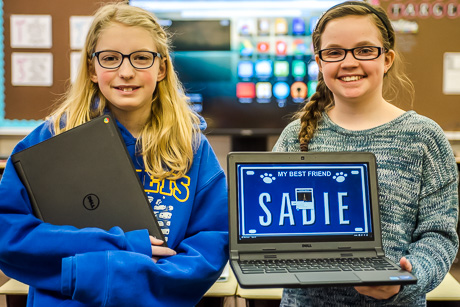 There is hardly a profession in America that isn't being changed profoundly by technology. From taxi drivers and plumbers to big company CEOs, the world is increasingly digital.  
The Oakfield-Alabama Central School District wants to prepare students for this new and fast-changing world by providing them with the latest technology as learning tools.
As a pilot program this year, students in fifth and sixth grade were each provided Chromebooks (based on software from Google). The computers are touchscreen and connected to cloud servers, making file sharing easy for students both at school and at home on their own devices and with teachers, who are equipped in class with giant touchscreens.
"This is a skill set you're not going to escape, no matter what career path you choose to go down, even if you're at home and your spouse works, you're still going to need these skills to be a productive member of society," said Rob Zdrojewski, the district's director of instructional technology. "You're going to need to know how to communicate electronically."
The plan for the district is to roll out the technology to all of the grade levels with the help of a grant from the state, called a Smart Schools grant.
So far, there's positive feedback from students and teachers.
"It's a lot more fun and easier, too, because you don't have to keep track of a lot of papers or anything on your Chromebooks," said fifth-grader Jose Reding.
A hot topic of debate in Silicon Valley circles is over the shortage of women in the technology field, especially as entrepreneurs. Reding, like Mckenna Johnson, are probably unaware of such controversies, but both are ready to do something about it. Both have already built their own Web sites (Reding with Weebly, and Johnson with WordPress) and both say they think they might want to run their own technology businesses someday.
"I've always loved technology," said Mckenna, whose parents own Millennium Computers in Batavia, "It's helping me do more and I can learn more." 
Mckenna's also made a contribution to her class, using her tech savvy, by setting up a group contact in Gmail so one e-mail can be sent to all the students in the class at the same time.
While Josie and Mckenna might represent the top of the learning curve, it's a pretty shallow curve, said their math teacher, Michelle Smith.
"There are definitely kids with more experience," Smith said, but when I look around the classroom, I couldn't pick out a kid who is struggling with something because they don't know how to use the technology."
While there are districts around the country which are adopting more technology in classrooms, not all of them are providing devices for each student, Zdrojewski said. The advantage of O-A's approach, he said, is that it levels the playing field. There are students who can afford the latest iPhone for their children and there are parents who can't even afford a $50 tablet from Amazon, so with the district providing Chromebooks, no student is without a device.
"The Chromebooks are a great leveler," Zdrojewski said. "All of the students can participate in social media, they can all do their assignments online, because they all have the tools to do it."
The other benefit of the new technology, Smith said, is it raises the level of engagement. Kids are excited and they stay on task more readily.
"I think it's made the kids take more ownership of their work, not only in math, but other subject areas as well," Smith said. "And with the Chrombooks, there is a lot more data available to me to help drive my individualized instruction for each student."