February 26, 2018 - 4:57pm
Oil spill reported from accident on Thruway in Pembroke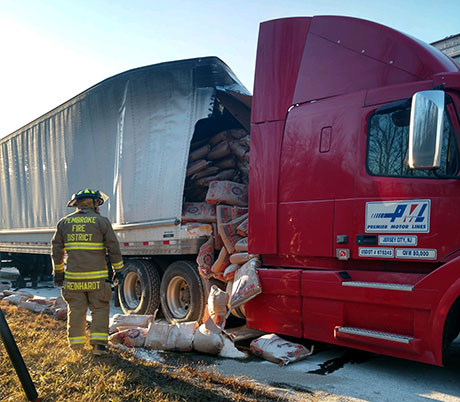 There is an oil spill on the Thruway in the eastbound lane in the area of mile marker 404 because of a truck accident.
It's unclear if a truck was carrying oil or if the oil comes from the engine. 
Two trucks may have been involved and there is heavy damage. There's no word yet on how large of an oil spill.
Pembroke fire and Indian Falls fire dispatched.
UPDATE 5 p.m.: There is oil leaking from "the last two tractor-trailers involved," a chief reports.
UPDATE 5:03 p.m.: The spill is 50 to 60 feet from a waterway. Department of Environmental Conservation being notified.
UPDATE 6:02 p.m.: Reader-submitted photos added. Apparently, only one truck involved. It was carrying 44,000 pounds of flour for a pizza shop.