March 27, 2017 - 8:00am
Part 4: Trump, trade and the local economy
The Farm Economy
This is part four of an eight-part series on trade and how changes in policy might affect the local economy.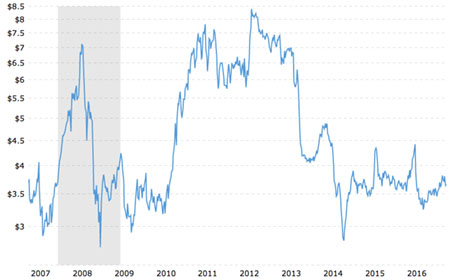 It's hard to say just how much of what is produced in Genesee County is exported overseas. There are several companies that manufacture products here and ship what they build to China, Europe, the Middle East, Mexico and, of course, Canada, including Liberty Pumps, Chapin and Graham.
There is no database, though, that tracks exports at a rural, county level.
What we can say with some certainty, however -- our county's biggest export is what is grown here on our farms.
Everything the Trump Administration is talking about related to trade has the potential to have a big impact on local farmers. 
According to Dean Norton, an Elba dairy farmer and former president of the New York Farm Bureau, Trump's tack toward protectionism has already had an impact. When Trump canceled U.S. participation in the Trans-Pacific Partnership, New York farmers lost about $100 million in potential new revenue, Norton said.
"People don't understand that about 25 percent of what is produced locally is exported farm product," Norton said. "Exports and imports generally have a positive effect on the bottom line when it comes to trade."
Collins said he understands that agriculture is important to his district and he promises to represent those interests in Washington.
"There are a lot of ag issues and for many people when we talk about trade they think about cars and widgets and not about ag," Collins said. "I can promise you, I will be a voice at the table. I can't promise outcomes, but I can make sure the issues are on the table."
While Walmart and Target shoppers might find some electronics, clothing, and housewares more expensive during a trade war, supermarkets may not be able to stock some of our favorite foods. Besides the crops that can't be grown domestically, such as bananas and cocoa beans (at least in quantities sufficient to meet demand), many other crops are available out of season because they are grown in other countries, such as blueberries, lemons, watermelons and strawberries. 
"Consumers demand strawberries 12 months out of the year," noted Maureen Torrey, co-owner of Torrey Farms, but the only way we get strawberries in winter, she noted, is to import them from South America, primarily Chile.  
We import tomatoes and avocados from Mexico and Canada. California grows avocados but not enough to meet the current demand for guacamole.  
"The demand has gone through the roof," Torrey said.
Our tomatoes used to come from Florida, Torrey said, but after NAFTA (North American Free Trade Agreement), much of that production shifted to our southern and northern neighbors.  
Asked if the United States could again produce tomatoes, Torrey said, "That goes hand-in-hand with the fact we don't have the labor anymore to grow these hand crops. There's a lot of factors that interact with these whole trade agreements."
Mexico is second only to Canada as foreign suppliers of food to U.S. consumers, much of it products that can be easily grown in America.
When the president talks about NAFTA (a deal he promised to renegotiate as soon as he took office, but has yet to act on) he's usually drawing his ire on Mexico, Trump and administration officials have indicated Canada need not worry about drastic changes to the trade deal, but local farmers have long-standing complaints about trade with Canada.
While you might think NAFTA would make it easier for WNY farmers to ship grain, dairy, and meat to our northern neighbors, the opposite is true, they say, yet the U.S. market is completely open to Canadian farmers. The Canadian government, they charge, even subsidizes shipments of agriculture products to Florida.
Norton said dairy farmers have been battling Canadian restrictions since 1996.  
Various Canadian agriculture programs provide price supports, import quotas and production caps on domestic dairies. Since most of these programs are provincial, rather than controlled by the Canadian federal government, the restrictions are beyond the reach of the World Trade Organization. U.S. dairy farmers are unable to file a complaint with the WTO.
"The dairy industry there doesn't want to compete with imports even though their dairy industry is dying," Norton said.
Trade is important to farmers because from $120 billion to $140 billion worth of the nation's agricultural output is shipped overseas, which is why farmers get very nervous about the idea of new trade barriers. 
Last year, all of CY Farms soybeans were sold overseas, said its CEO Craig Yunker, noting that trade is fundamentally important to agriculture because of the whole concept of comparative advantage. What one country grows well, another may not, so they're both better off trading with each other than trying to produce something that neither can do as well as a trading partner.
"A banana republic down there can't grow corn and we don't grow bananas," Yunker said.
Yunker agrees with Norton -- that it hurt U.S. farmers to pull out of the Trans-Pacific Partnership.
Trade deals do more than open markets, he said, they set rules, allowing companies to compete on a level playing field. The rules deal with government subsidies, health and labor regulations and environmental concerns.
"All of these things were setting rules for a trading block and we helped set the rules," Yunker said. "We were able to do that because those other countries wanted access to our markets. Now China will put a trading block together and now China will set the rules."
China was not part of TPP, but keeping the Chinese market open to U.S. ag products is very important to farmers. As the Chinese economy grows, so does Chinese food consumption. Higher standards of living means people eat more meat, so the Chinese not only need more grain to feed themselves, they need it to feed their farm animals.
"They buy such a large amount of grain, just the thought of them shutting down would send a panic through world markets," Norton said. "Their billion and a half people are increasing lifestyle consumption so it's important that we're going to want to be at the table to provide some of those products for them. If we're not, some other countries are going to be and they will have no qualms about replacing the United States. Trade is a very dog-eat-dog world."
Russia and China have been improving trade relations over the past couple of years and recent Russia has become the world's largest wheat exporter.
That's significant, with or without new trade barriers, because grains are commodities and commodity pricing is impervious to protectionism. The only thing protectionism can do on commodity markets is make things more expensive.
For many products people buy and sell, a number of factors can determine the price. Quality, service, unique features, brand loyalty and other factors affect what people are willing to pay. But some products, known as commodities, don't have those differentiating features going for them. It all comes down to supply and demand. The greater the supply, the lower the demand, and then the lower the price. When supply drops and demand goes up, prices go up.  Commodity traders actually make their living placing financial bets on the trends in prices for commodities, which includes corn, wheat and soybeans.
Farmers don't set the price on commodity products they sell. The market does. That means trade barriers, or a rise in the value of the dollar, can make it much harder for domestic farmers to sell their crops overseas.  
As an example of the impact global markets can have on grain prices, Norton pointed to the recent history of corn. A couple of summers ago, the Midwest suffered a huge drought, hurting corn farms in those states. In WNY, we had plenty of rain and bumper corn crops. Local farmers took advantage of the weather patterns and planted more corn, but we still don't produce enough here to shift the world market. Corn prices hit record highs and local farmers reap bigger profits.
Last year, worldwide corn supplies rebounded and New York was hit with drought conditions, meaning less corn was grown here. As a whole, the New York ag industry suffered a $1 billion loss in 2016, according to the New York Farm Bureau.
"We are affected by what happens in Argentina, Brazil, China, all those things affect us one way or the other," Norton said.
CHART: Corn prices, 2007-2016
Previously:
March 27, 2017 - 12:14pm
#1
Related from Politico this morning.
http://www.politico.com/tipsheets/morning-trade/2017/03/canada-dairy-on-...
CANADA DAIRY ON CONGRESSIONAL NAFTA WISH LIST: Gaining more access to Canada's dairy market will be a top issue in NAFTA renegotiation, House Ways and Means Chairman Kevin Brady said in an interview with POLITICO.
"I think it's been a long-standing dispute that, frankly, needs to be resolved," the Texas Republican said. "I know the Trump team has heard from our U.S. dairy folks and heard that at the recent House meeting on negotiating, the advisory group on negotiating with Secretary [Wilbur] Ross and the acting USTR. I'm confident that will be one of the issues."
Brady's statement sets up a tough issue for Canada to consider in the upcoming talks, and represents one of the first specific references to emerge about what congressional Republicans might want out of an improved deal. Democrats are already calling for tougher restrictions on Canada's ability to compete for U.S. government procurement contracts. Canada, which has already given away dairy market access to the European Union in a separate trade deal, may be hard pressed to meet U.S. demands relative to dairy in NAFTA talks.
March 27, 2017 - 6:42pm
#2
March 28, 2017 - 11:49pm
#3
I never realized how in lock-step with Globalism the American farmers are. It's amazing how that pesky little thing called 'special interests' is now rearing it's head within one of America's most heavily subsidized industries... farming. Perhaps the President should give the farmers a free-trade exemption, and in the exchange cut the government subsidy to farming, and then let's see how they fare having free trade in the world market to preserve their cash-cows, without all that US government money.