April 21, 2018 - 5:50pm
Photo: A painting by Alexander native Noah North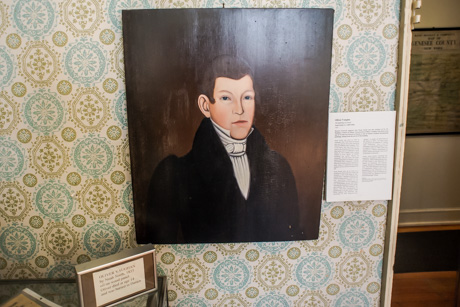 This is a painting by Noah North of Oliver Vaughn, a resident of Darien who died at age 14 in 1833.
I stopped by to see it today at the Holland Land Office Museum because until a few days ago, I hadn't heard of North, who, it turns out, is a painter from Alexander of some minor national renown. His name has never come up before, at least in my presence, in any discussion of local artists.
The painting of Vaughn is one of North's earliest when he was still being trained by M.W. Hopkins, of Albion.
He is recognized among collectors and art historians as a folk portrait artist (also called "naive" or "primitive"). 
He relocated to Ohio where he continued to pursue his portrait career and then returned to WNY, married a woman from Darien, and settled in Mt. Morris, where he eventually adapted to the new medium of photography (working in daguerreotype).
Within the region, North's work can also be seen at the Memorial Art Gallery in Rochester and the Genesee Country Museum in Mumford. His work is also in the collections of the National Gallery of Art, the Museum of Folk Art, and the Shelbourne Museum in Vermont.
For the next four hours, one of his paintings is available on eBay for $9,000.