September 18, 2015 - 1:56pm
Photo: Main St. Pizza Company expanding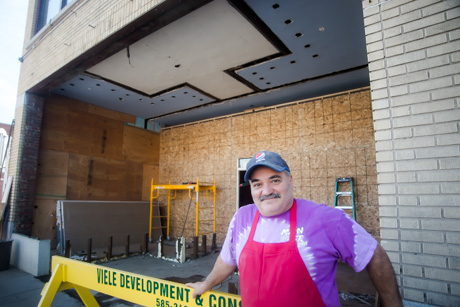 Vic Marchese, owner of Main St. Pizza Company, on East Main Street, Batavia, stands in front of the opening of the commercial space next to his business where workers are busy remodeling so Marchese can add more space to his popular restaurant.
The front part of the restaurant will feature a sliding window system, called a nana system, that will allow open-air dining when weather permits, but a closed dining area when it gets cold.
With his plans recently approved, Marchese just ordered the windows, which will take six to eight weeks to arrive. Marchese is optimistic the new space will open in January.
The restaurant will expand by about 2,000 square feet and include additional interior dining room space, as well. The dining room and the pick-up counter will have separate entrances, which will help people get in and out of the restaurant faster.  
Marchese is also expanding the kitchen.
September 18, 2015 - 6:35pm
#1
Do you make California style? Shame on you, no shrimp on pizza either. Your Grandpa would kick your oven.